Lima beans and eggplants are one of my all time favorite vegetable combinations. We prepare a mudda kura (a hotch potch of sorts) where plump beans merge with soft eggplants and ginger-garlic-green chillis-coriander paste to create a flavorful Andhra classic that is sure to brighten up one's meal. Spread it as a sandwich filling, eat it with rotis or plain rice, it is sure to delight your taste buds.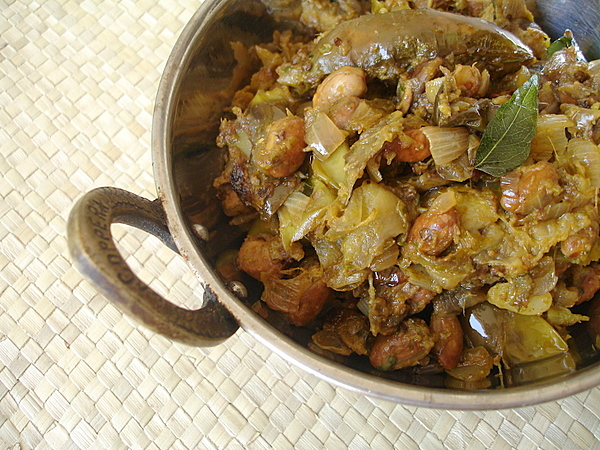 Vankaya Chikkudu Ginjalu Mudda Kura Recipe
Prep & Cooking: 30 mts
Serves:3-4 persons
Cuisine: Andhra
.
Ingredients:
1/4 kg brinjals, washed, cubed or quartered and soaked in salted water
1/4 cup chikkudu ginjalu/lima beans
2 onions, chopped
pinch of turmeric
1/4 tsp cumin pwd
1 tsp coriander pwd
1/4 tsp red chilli pwd
1 1/2 tbsps oil
Coarsely crush:
1″ ginger
5-6 garlic cloves, slightly crushed
small bunch coriander leaves
2-3 green chillis
Seasoning/tadka/poppu:
1/2 tsp cumin seeds
few fresh curry leaves
1 Par-boil lima beans adding a little salt and about a cup of water. Strain any left over water once the vegetables are par-boiled.
2 Heat oil in a cooking vessel and add the cumin seeds and let them splutter. Add curry leaves and toss them about for a few seconds.
3 Now add the chopped onions and saute them till transparent. Add the coarsely crushed paste and saute for 4-5 mts. Add turmeric pwd, chilli pwd, cumin pwd, coriander pwd and salt and combine.
4 Add the cubed brinjals and combine. Cook uncovered for 7-8 mts on medium heat. Stir once in a while. Add a few tbsps of water, reduce heat and cook covered for 10-12 mts. Add the par boiled beans and combine. At this point you can add a few tbsps of left over water from the beans. Cook covered for another 6-7 mts.
6 Remove lid and let the curry cook such that there is no water and it like a hotch potch. Serve with hot rotis or rice.
Note:
You can use both white or purple brinjals. If large brinjals, cube them, if they are small, quarter them.