Kanchipuram idli recipe, a unique steamed rice cake that has a distinct flavor of dried ginger, cumin, and peppercorns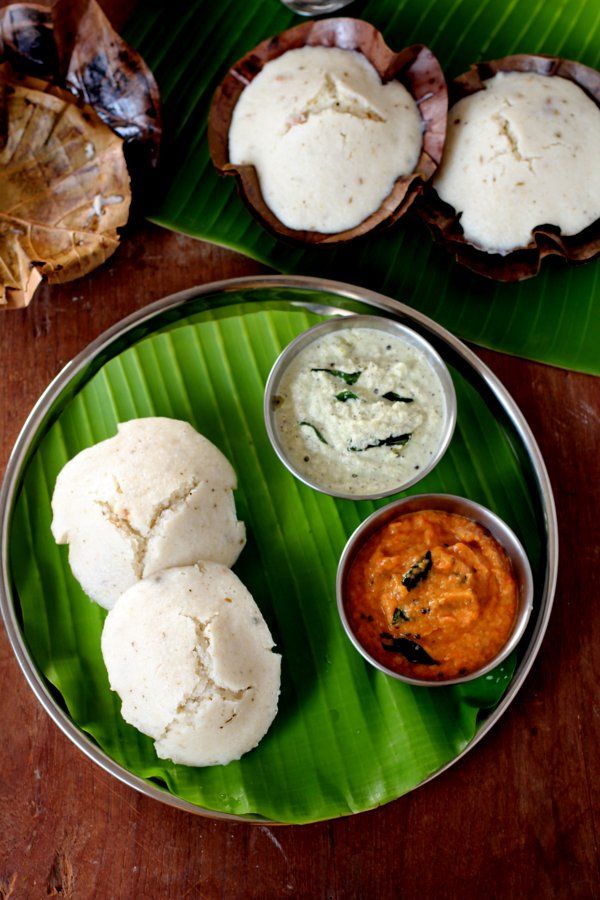 kanchipuram idli
I really don't know what took me so long to post Kanchipuram idli recipe. One of my favorite idli variety that I must eat on every visit to Kanchi. Whenever we go for Lord Balaji's darshan at Tirupati, we visit Kanchi too. Other than silk sarees, Kancheepuram is famous for its temples, Kanchi Kamakoti Peetham and of course the food. One of the most traditional Tamil tiffins or special food is Kancheepuram idli.
This steamed delicacy is offered as prasadam at Sri Varadaraja Perumal temple. The food cooked in the temple kitchens and offered as prasadam to the Almighty has a flavor that cannot be replicated at home. Temple food is sacred with pure, clean flavors. Sattvik food at its best! One such temple food or koil neivedhyam is the Kanchipuram idli which also goes by the name kovil idli (temple idli), kudalai idli and tumbler idli. A healthy, heartwarming and filling breakfast dish. As a growing teenager, I was not fond of the flavor but in my adult years, my palate has matured. There are some flavors you enjoy as you grow older. I relish the flavor and crumbly texture of the Kanjeevaram idli served in the temple.
Over the years I procured quite a few recipes of idli varieties. I collected recipes from friends, hotel cooks, brahmin cooks at temples, magazines and the internet. The flavor of the kovil idli is not found in the any of the hotels of Kanchipuram. Each hotel has its own recipe of Kanchipuram idli. I have tried a few recipes and keep coming back to a recipe shared by an Iyengar Vaishnavite friend's paati (grandmother). In fact, she shared quite a few Perumal kovil prasadam recipes with me. The food cooked in her kitchen is to die for, so enticing and brings joy to the soul. I shall blog them too.
A unique idli preparation in terms of the idli batter preparation, the shape of the idli, the manner in which it is steamed and texture of the idli.
The side dish for Kanchipuram Idli can be kara chutney (a spicy tomato and onion chutney), hotel style coconut chutney, idli podi and tiffin sambar. And, I suggest you eat Kanchipuram idli while warm to savor its true flavor.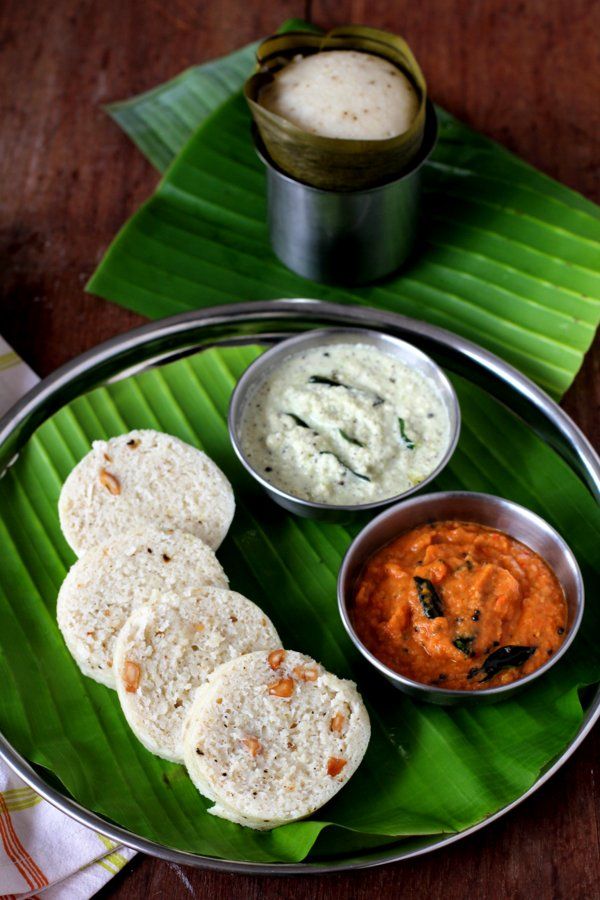 kanchipuram idli with kara chutney and coconut chutney
How to achieve the authentic, unique flavor of kanchipuram idli
Basically, raw rice, parboiled rice, and whole, skinned urad dal (black gram) are used in equal proportions. The rice (raw rice and parboiled rice) and urad dal are soaked in water separately for 5 to 6 hours. The rice has to be ground to a coarse texture (similar to semolina/sand) while the urad dal is ground to a smooth paste. Both of these batters are mixed together and the consistency of the batter should be neither thin nor thick.
The batter must be sour so the idli batter has to be fermented for 8 hours (during summers).
The authentic Kanjeevaram idli recipe does not call for tempering with mustard seeds and Bengal gram. We add coarsely crushed cumin seeds, peppercorns, and dried ginger powder (sukku podi/sonti podi) to the fermented idli batter along with ghee, gingelly oil, asafoetida, curry leaves and salt. But you can add a tempering of mustard seeds and chana dal also. I like to add broken pieces of cashew nuts that have been roasted in ghee.
Traditionally, Kanjivaram idlis are steamed in dried 'mantharai' (kachanar/pulichinta/camel's foot tree) leaf cups which lend a unique flavor to the idli. You can use banana leaves too.
You can use a greased tumbler or a flat based round vessel (cake pan will do). Or you can steam them in the regular normal idli plates.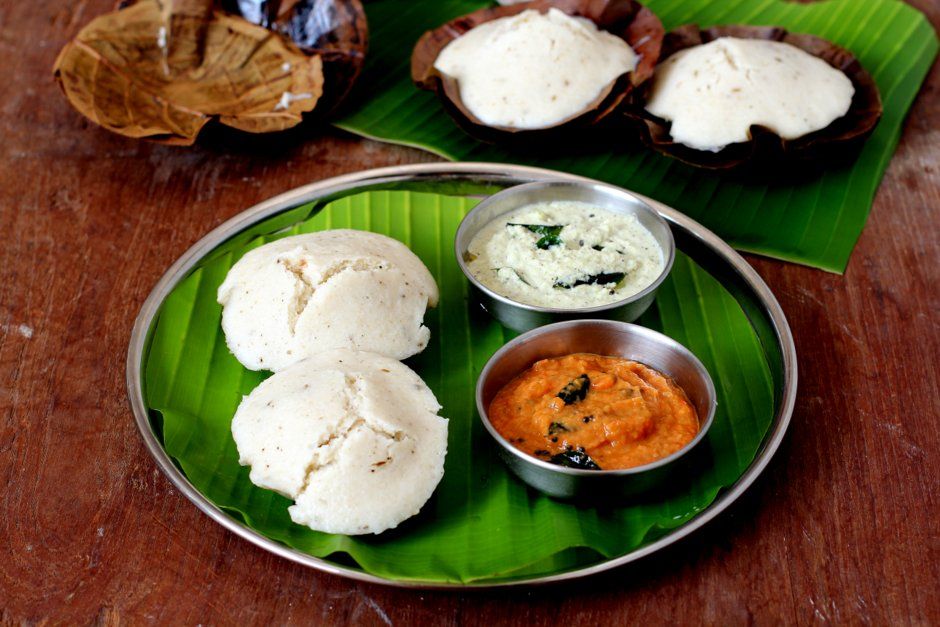 kancheepuram idli
Those of you looking for different types of idli recipes, you should give Kancheepuram idli a try. Do share your feedback and pictures of the dish in the blog comments or on social media. Would love to see them. You will find me on Pinterest, Facebook, Twitter, Google Plus and Instagram.
So, you know what to eat in Kanchipuram if you happen to travel there. 🙂
How to make Kanchipuram idli recipe