Lakshmi of Veggie Cuisine who runs the wonderful RCI – Regional Cuisines of India food event is our guest poster today. RCI is a food blog event that celebrates the rich and diverse regional cuisines of India. Visit the regional cuisine round ups which are treasure houses of recipes from different part of the country to learn about our rich culinary heritage.
Guess what Lakshmi is writing about today – 'Traditional Tiffins', much loved by our family. Thank you Lakshmi for your effort and time in bringing to us delectable plates of not one but two tiffin items. Friends, please welcome Lakshmi. 🙂
~ Sailaja
TRADITIONAL TAMIL TIFFINS
A plate of steaming hot idlis served with sambar and chutney on the side is what comes to mind the moment you think of a Tamil tiffin. While idlis are the most commonly available Tamil tiffin, the spread includes a whole lot of other varieties of tiffins and accompaniments. Step into any South Indian restaurant and you will find a whole array of popular Tamil tiffins like idly, dosa, vada, pongal, rava idli, uthappam, rava dosa, etc.
What you will not find on restaurant menus are traditional home made recipes like upma kozhakattai, sevai, aapam, kuzhi paniyaram, adai, idiyappam (also a Kerala delicacy) etc. Restaurants apart, mobile vendors (also called 'Kayendhi Bhavan') whip up delicious and fresh tiffins right out of their carts. As a kid, I remember eating at these Kayendhi Bhavans whenever we embarked on a long road trip. It was like a ritual in our family.
Breakfast is not the only meal where tiffins are consumed. They are also a great alternative when you need a light evening snack. Some of the recipes have even found their way to the dinner table. For instance, Pongal accompanied by Gothsu makes for a wholesome and nutritious dinner. Whatever be your choice, Tamil tiffins are sure to please your palette.
Accompaniments are an integral part of any traditional tamil tiffin menu. Sambar and chutney goes with idli, vada and dosa. Kurma is usually served with aapam and sevai while adai can be eaten with a simple tomato pickle or lime pickle. The most popular chutney made in Tamil households is the coconut chutney which has freshly grated coconut, chutney dal and fresh green chillies. Pair it up with idli and dosa and your taste buds will be thanking you. I love to try out recipes from various cuisines and accompaniments are no exception. Sometimes I make a Chettinad tomato chutney or a peanut chutney from Andhra cuisine to go with idlis, dosas or even adai. I also make chutneys with vegetables like tindora, zucchini, ridge gourd, etc. as a healthy alternative.
Tamil tiffins are very versatile even if you are on a low carb or low fat diet. Try substituting cracked wheat instead of rice while making pongal. For upma kozhakattai use gritts instead of rice. I recently came upon a recipe for adai with gritts. The vegetable chutneys I mentioned earlier are a great substitute to the traditional coconut chutney. The options are unlimited.
A write up on Traditional Tamil Tiffins is incomplete without a recipe for the traditional idli, sambar and chutney. Here it goes.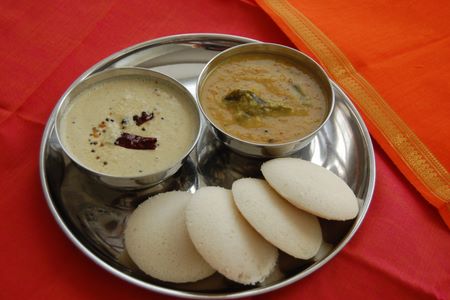 Idli with coconut chutney and varuthu araicha sambar
IDLI
Ingredients:
Ponni boiled rice – 4 cups (use either Laxmi Brand or Raja Brand)
Urad dal – 1 cup
Methi seeds – 1 tbsp (adjust according to taste)
Salt
Method:
1. Soak the rice and dal in separate bowls for about 3-4 hours.
2. Add the methi seeds either to the dal or rice while soaking.
3. Grind the dal to a smooth consistency.
4. Do not grind the rice into a very smooth paste. Make it a bit coarse. The idlis and dosas will turn out better.
5. Add salt and to the above batter and let ferment overnight or until you see the batter rise up.
6. Pour into idli moulds. Steam 10-12 minutes and serve hot with chutney and sambar.
Add water and dilute the batter to make dosas.
COCONUT CHUTNEY
Ingredients:
Fresh/frozen grated coconut – 1/4 cup
Chutney dal/Putana dal – 1/4 cup
Green chillies – a few according to taste
Asafoetida – a pinch
Salt to taste
For seasoning:
Mustard seeds – 1/2 tsp
Urad dal/channa dal – 1/4 tsp
Curry leaves – a few
Dry red chilly – 1
Method:
1. Put the ingredients in a blender and make a paste.
2. Season with mustard, urad dal, curry leaves and dry red chilli.
3. Add salt to taste.
4. For a thinner consistency add more water while grinding.
VARUTHU ARAICHA SAMBAR
Ingredients:
Thuvar dal – 1/2 cup
Onion – 1 (you can use a handful of pearl onions too)
Tomato – 1
Tamarind extract – 1/2 cup ( I use 2 tsps of Laxmi brand tamarind concentrate)
Turmeric powder – 1/4 tsp
Fresh coriander – for garnish
For the paste:
Coconut – 2 tbps
Channa dal – 1 tsp
Dhania/Coriander seeds – 2 tsp
Methi seeds – 1/2 tsp
Dry red chillies – 5 or 6 (adjust to taste)
Asafoetida – a pinch
For seasoning:
Mustard – 1/2 tsp
Curry leaves
Urad dal – 14 tsp
Method:
1. Cook thuvar dal and set aside.
2. Pour oil in a pan and slightly fry the onions until they become soft. Do not burn them.
3. Add the tamarind extract, tomatoes and turmeric powder and boil until the raw smell of the tamarind disappears. The tomatoes will get cooked in this process.
4. Fry the ingredients for the paste with very little oil. Make a paste and add to the tamarind mixture.
5. Let it come together then add the cooked and slightly mashed thuvar dal.
6. Add salt and water if required. Mix well.
7. Season with mustard seeds, urad dal and curry leaves.
8. Garnish with coriander.
Sambar can also be made with vegetables like bell peppers, bottle gourd, butternut squash, etc. For idlis onion sambar is the best.
The next recipe is for sevai and kurma. A light snack would be served whenever a groom came to see a prospective bride. And sevai was the most popular and a must-have item on the menu for this occasion. While making sevai from scratch is a laborious process, everyone in the house would pitch in to make this light and fluffy delicacy. Sevai is usually served with potato masala and coconut chutney. Kurma as an accompaniment to sevai offers an interesting twist to this traditional recipe.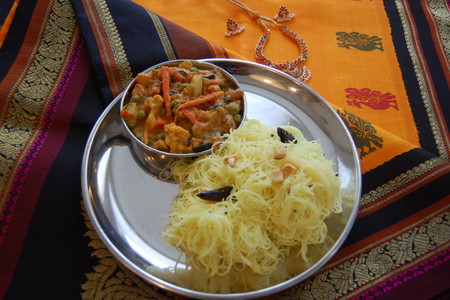 Instant sevai with Vegetable kurma
INSTANT SEVAI
Ingredients:
Instant rice vermicelli – 1/2 packet (I buy it from the Asian store)
Mustard – 1 tsp
Urad dal – 1 tsp
Channa dal – 1 tsp
Green chillies – 1 or 2 (adjust to taste)
Cashews – 2 tsp
Lemon juice – 2 tsps
Turmeric powder – 1/2 tsp
A pinch of asafoetida
Salt to taste
Oil as needed
A few curry leaves
Fresh cilantro for garnish
Method:
1. Put a big pot of water to boil. Once the water boils add the instant rice vermicelli. Keep stirring and remove as soon as it is cooked. This takes hardly 3 to 4 minutes. Do not overcook as it will become sticky and lumpy. Drain and spread out on a plate to cool. Add 1 to 2 tsps of oil to prevent the vermicelli from sticking.
2. Pour oil in a pan and add the mustard. Once it splutters add urad dal, channa dal, green chillies and curry leaves.
3. Add the turmeric powder and asafoetida mix well and remove from the flame.
4. Transfer the rice vermicelli to the pan with seasonings and mix well. It is easier to handle the vermicelli with your hands. Keep loosening the vermicelli as you mix into the seasoning.
5. Add salt, lemon juice and cilantro and mix till all are incorporated.
6. Garnish with roasted cashews.
VEGETABLE KURMA
Ingredients:
Vegetables – 2 cups – use a combination of carrot, cauliflower, potato, green peas and beans
Onion – 1 (finely chopped)
Tomato – 1 (finely chopped)
Tomato paste – ½ tsp
Green chillies – 2 or 3
Ginger garlic paste – 1 tsp
Red chilli powder – 1 tsp
Kashmiri chilli powder – ½ tsp (for color)
Coriander powder – 1 tsp
Garam masala powder – 1 tsp
Turmeric powder – a pinch
Bay leaf – 1 or 2
Salt to taste
For the paste:
Coconut – ¼ cup
Cashewnuts – a few
Poppy seeds – 1 tsp
Fennel seeds/saunf – 1 tsp
Green chillies – 2 (optional)
Method
1. Cook/steam the vegetables and set aside. I use a microwave steamer. You can also use a pressure cooker.
2. Make a paste of the ingredients above.
3. Pour oil in a pan and add bay leaf and onions.
4. Saute until onions are soft and add green chillies and ginger garlic paste and mix well.
5. Next add the red chilli powder, Kashmiri chilli powder, coriander and garam masala powder and sauté till blended with the onions.
6. Add the masala paste, tomato and tomato paste and cook till the oil leaves the sides of the pan.
7. Add water to make the gravy thinner.
8. Drain the water from the steamed vegetables and add to the gravy.
9. Add salt to taste and garnish with fresh chopped cilantro.
Thank you Sailaja for giving me an opportunity to write a guest post on your blog. I really appreciate your effort in trying to bring to light the Indian traditional recipes and cooking ideas from home kitchens across the world. I hope the readers will enjoy reading this write up on Traditional Tamil Tiffins.
Article, recipes and images – Lakshmi
Earlier on Indian Food Trail
Maharastra
A Simple Summer Meal by Nupur
Traditional Maharashtrian Thalis – Veg & Non-Veg by Meera
Traditional Maharastrian Sweet & Snacks by Meera
Konkan Region – North Canara
An Essay on Konkani Cuisine by Shilpa
Kerala
Munchies from a Kerala home – Shn of Mishmash
Udupi-Mangalore
Exploring Udupi Mangalorean Street Foods by Sia