Egg gravy for rice, chapathi, dosa or pulao made with a delectable blend of spices with clean and fresh flavors
egg gravy
Whenever I cook eggs, be it for breakfast or lunch, I always try to cook something different from whatever I have cooked earlier. When I cook egg gravy for rice or chapathi, I often tweak the original recipe. Even a small tweak can change the flavor. Most times the curry turns out good. 🙂 Not only does it taste delicious, but the aroma that whiffs through my kitchen bring cheer to the soul. When I hit on some really good flavor combination, I'd like to share with my readers.
egg gravy for chapathi
I usually do not go for heavy, creamy variety of egg recipes when I make egg gravy for rice. I'd like to reserve those type of egg curry recipes for roti, parotta or chapathi. Egg gravy is the way to go when there is no meat or fish at home. There were two capsicums (one red and one green) sitting in my fridge that I wanted to use up. So they went into the egg preparation. It is an everyday egg curry with a delectable blend of spices. For this egg gravy recipe, I did not use garlic and tomatoes. I used poppy seeds and cashew nuts which thickened the curry slightly and gave a rich nutty flavor. A final scattering of fresh coriander and a visually appealing egg gravy was ready in minutes. A perfectly versatile egg gravy for rice, chapathi or parotta with clean and fresh flavors.
The key to a tasty egg gravy
I have a few readers sending me queries like 'Why is my egg curry bitter' or 'why is my egg curry bland'?
If you use raw onion paste and not saute the onion paste till rawness disappears, it leads to a bitter tasting curry. I suggest you chop the onions, instead of using raw onion paste. If the recipe calls for raw onion paste, you should saute till rawness disappears. If using chopped onions, they should be lightly caramelized (it goes a step beyond onions turning translucent) which gives the dish a much deeper color as well as a richer flavor.
Do not skimp on oil as the onions and masalas must be cooked in enough oil otherwise the curry turns bitter. It is the quantity of cooking fat and the sauteeing process which decides the flavor of your curry. You must saute the onions and masala paste till oil separates while cooking any Indian curry.
Any egg curry will taste good if the masala base is made from scratch without the use of store-bought masalas. The flavor and aroma of freshly ground paste are far superior to store-bought spice mixtures.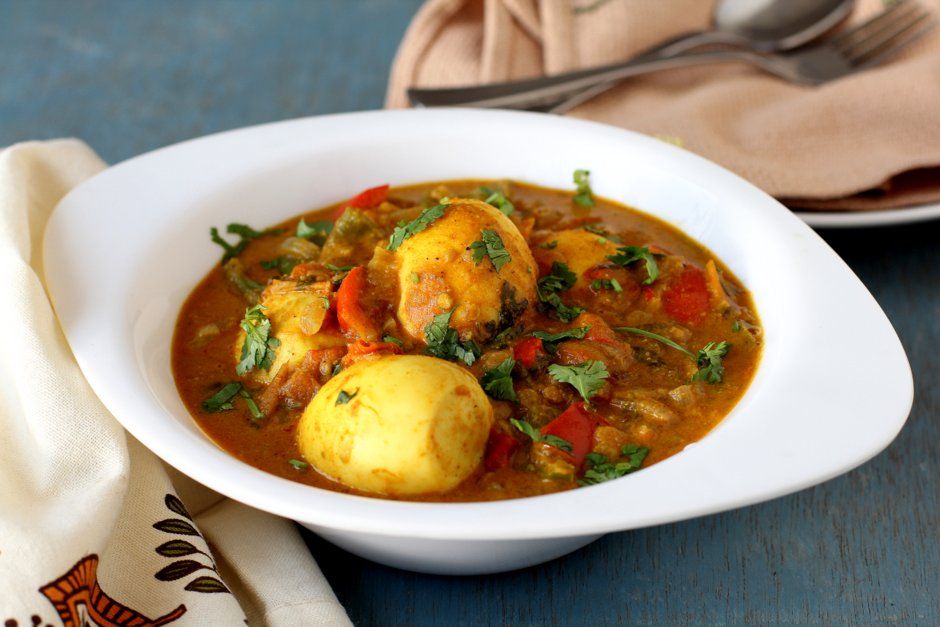 egg gravy for rice
If you try the egg gravy, do share your feedback and pictures of the dish either here in the blog comments or on social media. Would love to see them. You will find me on Pinterest, Facebook, Twitter, Google Plus and Instagram.
You can check out more egg curry recipes that I have blogged earlier. Egg kurma recipe, egg kulambu, Mangalorean egg curry, egg slice masala, kerala egg curry, kodi guddu pulusu, egg masala curry, fennel flavored egg curry, boiled eggs in poppy seeds sauce
How to make egg gravy recipe