Muttai kulambu or egg kulambu, an aromatic, delicious, Tamil style egg curry that goes well with rice, chapati, roti or dosa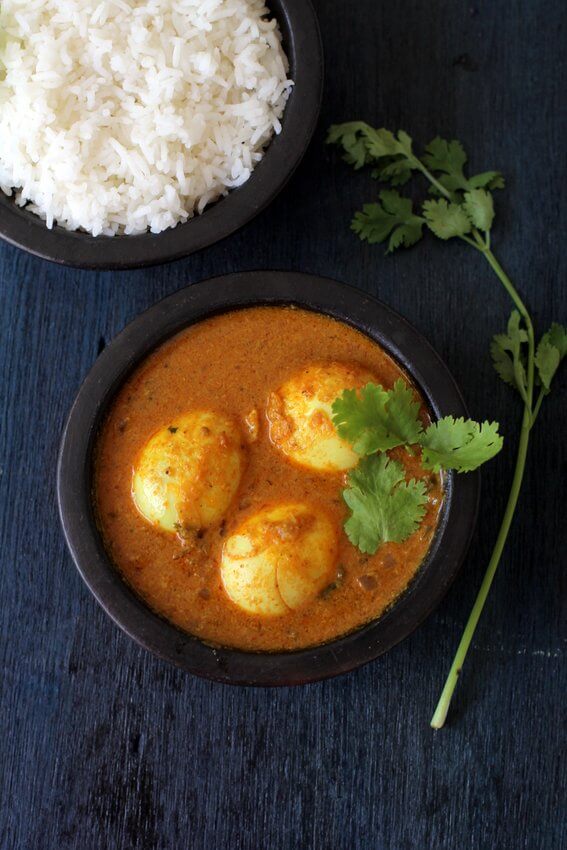 muttai kulambu – tamil style egg curry
Muttai kulambu is a delicious Tamil style egg curry that makes for a great side dish with chapati and rice. Those who follow my food blog regularly are aware of our family's love for eggs. It has been a while since I posted any Indian style egg recipes. Eggs are known as muttai in Tamil language while kulambu is a thin or thick consistency gravy or curry with well-balanced flavors made with or without tamarind. Coconut is often used in most kulambu recipes. There are numerous ways you can make an egg curry and I often cook a variety of traditional, Indian regional egg recipes. In fact, I have a notebook full of handwritten family recipes that I religiously note down from family members, relatives, and friends. Today, I am sharing a recipe from my notes which is a regional specialty egg curry that makes for wonderful accompaniment with tiffins like dosa, vada or steamed rice, and chapati. If you are a lover of egg curry be assured you are going to relish muttai kulambu.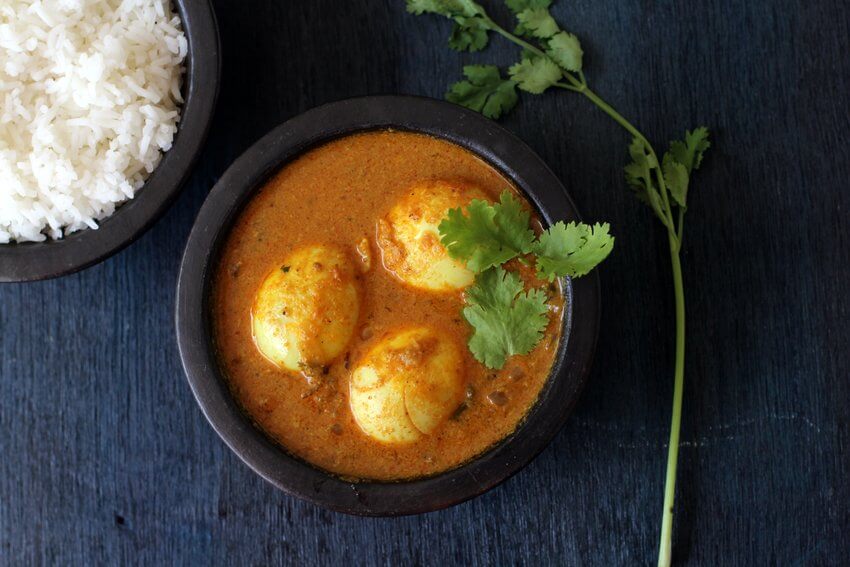 egg kulambu
Egg kulambu is similar to Andhra style egg pulusu, a tangy, soupy egg curry made with tamarind. Most kulambu dishes call for the use of tamarind but in today's egg kulambu recipe, there is no tamarind as tomatoes provide the required tang. Exotic Indian spices like fennel seeds, black pepper, cardamom, cloves and cinnamon lend the dish an aroma that is enticing and an addictive flavor. Cashewnuts and coconut enhance the flavor and balance the heat from the red chilis and black pepper. This visually appealing, smooth textured egg dish can be categorized under the comfort food category especially on a rainy day when served with hot steamed rice. Soul food at its best!
Do give this classic egg specialty of Tamil Nadu a try. Muttai kulambu recipe takes less than 40 mins from stove to plate. Most often I like to serve this egg curry with roti or chapathi for brunch or dinner as it makes for an excellent combination.
You will find similar egg curry recipes like Mangalorean egg curry, Kerala style egg curry, Andhra style egg curry, egg kurma, egg masala curry, egg slice masala, fennel flavored egg curry and more in the blog.
How to make egg kulambu or muttai kulambu