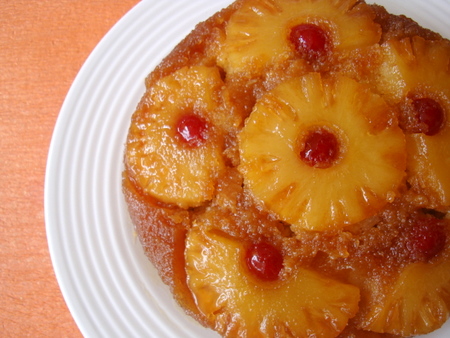 Pineapple Upside Down Cake
Nehal is enjoying his Dasara break with his friends. School break means more work for me in the kitchen. I don't mind it at all, in fact, enjoy it. 🙂 Yesterday, I baked a charming, delicious sweet treat for Nehal and his friends. Pineapple Upside Down Cake! Though it sounds and looks fancy, its a breeze to make.
Pineapple Upside Down Cake Recipe
Preparation: 15 mts, Baking: 45mts
.
Ingredients:
1 cup all purpose flour/maida
pinch of salt
1 tsp baking pwd
1/4 cup white sugar
1/4 cup butter
1 large egg
1/4 cup low fat milk
For topping:
1 1/2 tbsps butter
1/4 cup brown sugar
4-5 pineapple slices (tinned and drained)
6-7 glazed cherries
1 Preheat oven to 175 C. Grease and flour a round baking pan. Prepare the topping by melting butter in a pan and add brown sugar. As the sugar melts and foams, cook on medium flame for a mt and pour into the baking pan. Over this sugar layer, place pineapple slices and in the center of each pineapple piece place a glazed cherry. Keep aside.
2 Sieve maida, baking pwd and salt in a bowl.
3 In another bowl, cream butter and sugar. Use a hand blender to make a smooth creamy mixture. Add the beaten egg and combine well. Add vanilla essence and combine.
4 Fold in the maida mixture little by little alternating with milk. Do not over beat, just fold the dry till there is not trace of any flour.
5 Pour batter over the fruit layer. Bake in preheated oven for 45 mts or till a toothpick inserted into the cake comes out clean. Place on a wire rack to cool, slice and serve at room temperature.