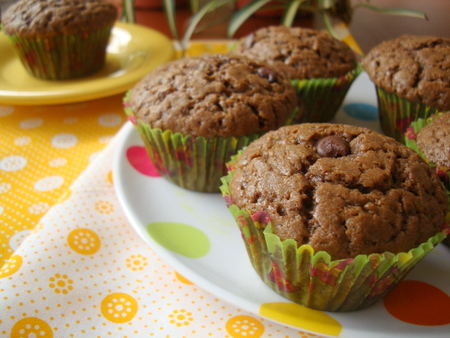 Mocha Chocolate Chip Muffins
Lately, I've been bitten by the baking bug. Yes, its the Christmas season and will be on a baking spree over the next few days, baking cookies, muffins and cakes. Yesterday, I baked a batch of Mocha Chocolate Chip Muffins which I bookmarked from Divya's blog who found this tasty treat at Baking Bites. These addictive muffins have a subtle flavor of coffee and a pronounced taste of chocolate.
Mocha Chocolate Chip Muffins Recipe
Preparation: 10 mts, Baking: 20 mts
Makes approx 16-18 medium size muffins
.
Ingredients:
2 cup flour (maida)
1 cup sugar + 2 tbsps
2 tsps baking powder
1/2 tsp salt
1/2 cup unsalted butter, melted
1 1/2 tbsp instant coffee pwd
1 1/2 tbsps cocoa pwd
2/3 cup low fat milk
2 eggs
1 tsp vanilla essence
3/4 cup chocolate chips
1 Preheat oven to 350 degrees F (180 degrees C) and place the oven rack in the middle of the oven.
2 In a large bowl combine the flour, sugar, baking pwd and salt. Use a whisk to combine. Set aside.
3 In another bowl melt the butter and while its still warm, stir in coffee pwd and cocoa pwd.
4 In another bowl, mix eggs, milk and vanilla.
5Add the egg mixture and butter mixture to the dry ingredients and mix until well combined. Fold in the chocolate chips.
6 Spoon the batter into the prepared muffin liners till three-fourths full. Bake for about 20-22 minutes or until a toothpick inserted in the center comes out clean.
7 Place on a wire rack to cool and remove muffins from pan. Serve warm or at room temperature.
Note:
To make it eggless replace the eggs with a large mashed banana and 3 tbsps yogurt.