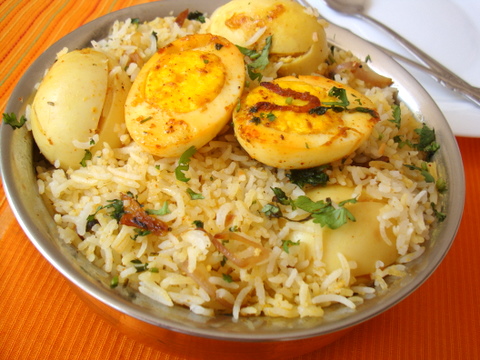 Egg Dum Biryani
Comfort food, Egg biryani, makes for a perfect Sunday meal with raita and curry. Yesterday, I was inspired to make a flavored rice and since our family loves eggs, I decided on Egg biryani which has a striking resemblance to Hyderabadi Chicken Dum Biryani. Its easy to put together, substantial and full of flavor. Serve to family and friends and wait for the compliments. 🙂
Next time will blog another version of Egg biryani that calls for scrambling the eggs.
Egg Biryani Recipe
Prep & Cooking: 1 hr 15 mts
Serves 5 persons
.
Ingredients:
4-5 hard boiled eggs, peeled and make long slits along each egg
2 large onions, finely sliced
1 small tomato, finely chopped (optional)
1 tbsp chopped coriander leaves
1 tbsp chopped pudina leaves
2 tbsps ghee
1 1/2 tbsps oil
3/4 cup thick curd/yogurt
5 green chillis, make a small slit in them
1/2 tbsp ginger garlic paste
1/4 tbsp red chilli pwd (adjust)
1/2 tbsp coriander pwd
2 tbsps lemon juice
salt as required
pinch of saffron soaked in 5 tbsps luke warm milk for 10 mts
Biryani Masala:
4 cloves
1/2″ cinnamon stick
2 elaichi/cardamom
1/4 star anise
1/4 tsp shah jeera
5 pepper corns
Ingredients to cook rice:
2 1/2 cups Basmati rice
3 cloves
5 cardamoms
1/2″ cinnamon stick
1 marathi mogga
2 bay leaves
5-6 mint leaves
1/2 tbsp oil
3/4 tbsp salt
water as required
1 Cook basmati rice in lots of water along with bay leaves, cloves, cinnamon, cardamom, marathi mogga, elaichi, mint leaves, oil and salt till its half cooked. Strain the water and spread the rice on a large wide plate. Allow to cool.
2 Heat 1 1/2 tbsps oil + 1 1/2 tbsps ghee in a vessel, add sliced onions, saute for 8-10 mts till caramelized. Remove half of the caramelized onions and keep aside.
3 To the remaining half caramelized onions, add green chillis, mint leaves, coriander leaves and ginger garlic paste and saute for 2 mts. Add red chilli pwd, coriander pwd and biryani masala pwd and salt (just enough for the egg masala) and combine well. Add chopped tomatoes and saute for 3 mts. Add the eggs and saute till well coated with the masala. (You can also halve the eggs and place carefully and saute in the masala).
4 Add the yogurt and combine. Cook for 5 mts till oil separates. Add lemon juice and combine. Turn off heat and keep aside.
5 Take a wide deep vessel to prepare the biryani. Add drizzle some oil all over, add half the rice as a first layer followed by the egg masala and spread out in the vessel.
6 Spread the remaining rice over the egg masala layer, pour 1/2 tbsp of ghee all over the rice, add the caramelized onions. Next sprinkle coriander leaves and pour the saffron milk over the rice.
7 Place lid and over the lid place a heavy weight. Cook on medium high flame for 5 mts. Remove the vessel from fire and place a iron tawa over low flame. Place back the vessel on the iron tawa and cook on low flame and cook biryani for 15 mts. Turn off heat and do not remove lid for 5 mts.
8 Remove lid, combine gently and serve hot with raita and curry of your choice.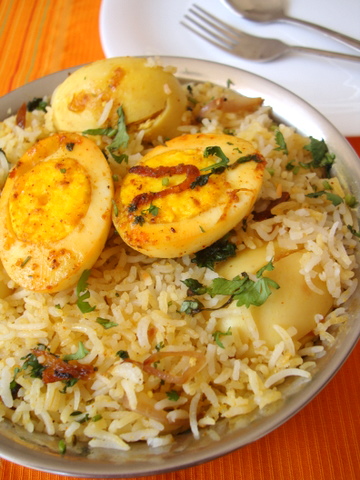 Anda Dum Biryani
Follow these steps to prepare biryani:
Boil eggs. While eggs are boiling, get the rice ready along with the other ingredients to cook rice.
While rice is cooking, slice onions, green chillis and chop tomatoes. Pick and chop mint and coriander leaves.
Prepare Biryani masala powder. Soak saffron in milk.
Caramelize onions.
While the onions are caramelizing, strain rice and spread on a wide plate. Peel eggs and make slits.
Prepare egg masala and layer rice and egg masala in a wide vessel and cook on dum.