Gutti vankaya fry, an Andhra style stuffed brinjal fry recipe made with a roasted spice blend that's immensely flavorful and makes for a perfect side with steamed rice and sambar
Vankaya or brinjal (eggplant aka aubergine) is much loved by the Telugu people of Andhra, especially in its stuffed avatar. One of the favorite ways to eat brinjal in Andhra and Telangana regions is in the form of gutti vankaya fry. The spices that go into its making may vary according to the community or region it is cooked. Whichever region it is cooked the gutti vankaya fry is unique in terms of the texture and flavor. It is a truly indulgent dish bursting with flavor and extremely comforting.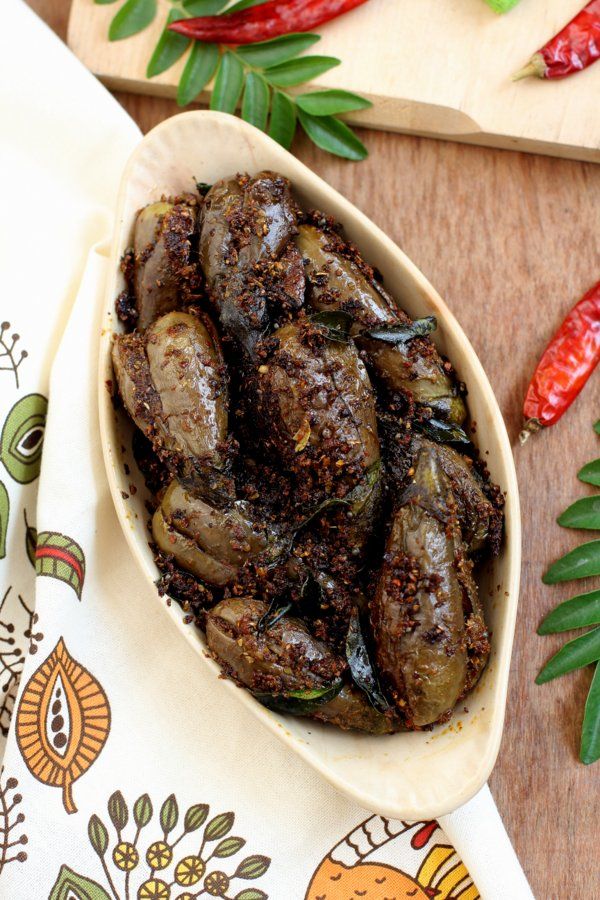 gutti vankaya fry
The secret to the Andhra style stuffed brinjal fry is the unique spice combination where spices and lentils are perfectly roasted and ground to a coarse powder which works as the stuffing. The stuffed eggplants are slow roasted to perfection mildly sweetened with jaggery with a feathery touch of tamarind. We Andhras are partial to tangy flavored dishes and use tamarind in most of our cooking. Likewise, in gutti vankaya fry, we add a wee bit of tamarind and some jaggery to offset the tang. A perfect combination of flavors.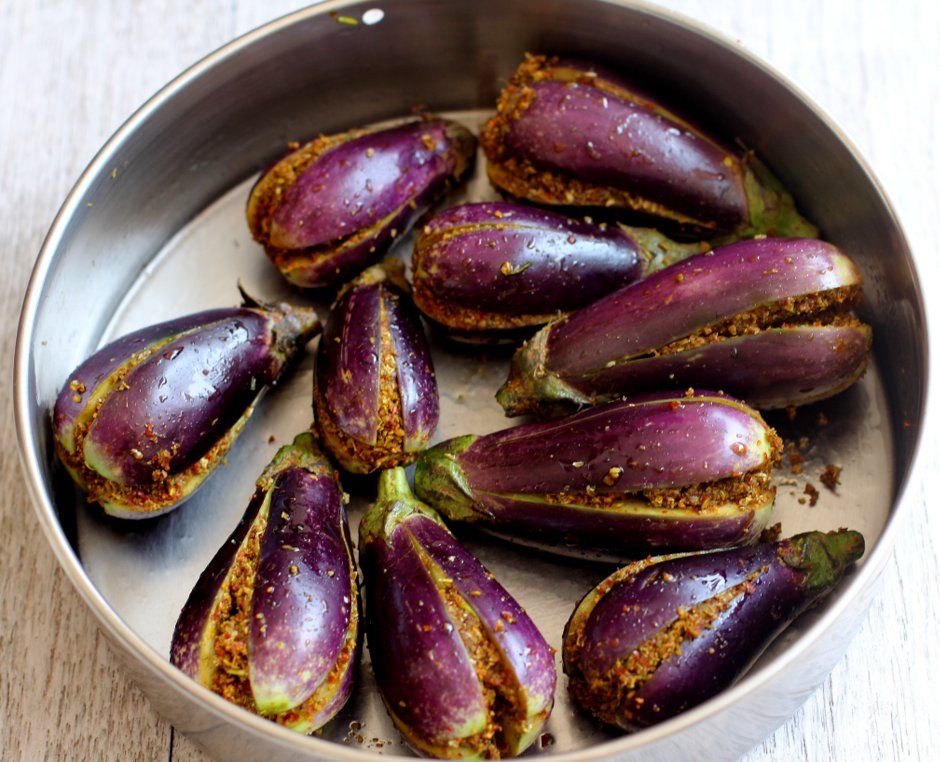 stuffed brinjals ready to be fried
This Andhra style stuffed brinjal fry can be served with hot steamed rice, pappu pulusu or sambar, papad and a cup of yogurt. It makes for a perfect meal where gutti vanakaya fry is the shining star of the meal.
The key to a tasty gutti vankaya fry
You need to choose tender, fresh, glossy purple, baby eggplants. Do not use the eggplants that are light, hollow and have a wrinkled skin.
The lentils used in the stuffing need to be roasted over a slow flame till red in color.
Fenugreek seeds or methi seeds have to be perfectly roasted to a red shade. The overall flavor of the gutti vankaya will depend on this spice. So watch out here.
Do not reduce the quantity of dry red chilies as called for in the recipe.
The key to a good flavored gutti vankaya fry is slow roasting it in a generous amount of oil. Though it is time-consuming, trust me, the slowly roasted brinjal has a flavor that is way superior to the quick-cooked or pressure cooked version. Yes, quite a few home cooks pressure cook the gutti vankaya to speed up the cooking process. I wouldn't suggest that if you want to savor the true flavor of roasted gutti vanakaya fry. The eggplants have to be cooked to a succulent soft texture.
Even if you are not a brinjal fan, do give this gutti vankaya fry recipe a try. Because I am sure you will turn into a brinjal fan. 🙂 If you do, please share your feedback and pictures of gutti vankaya fry in the blog comments or on social media. Would love to see them. You will find me on Pinterest, Facebook, Twitter, Google Plus and Instagram.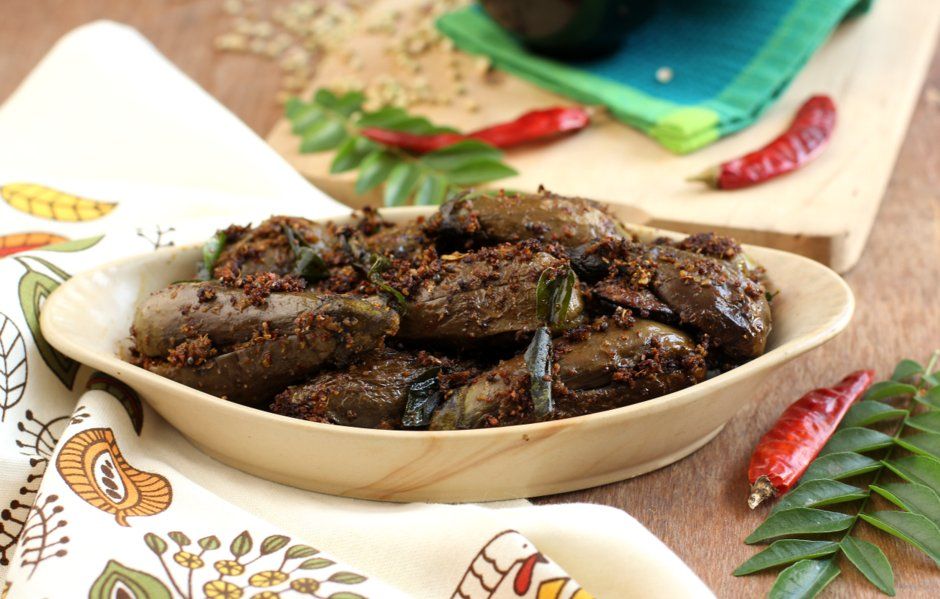 gutti vankaya fry
How to make gutti vankaya fry