Ava pettina daddojanam, a creamy, mustard flavored curd rice that's tempered with Indian spices and makes a great festive dish for Ugadi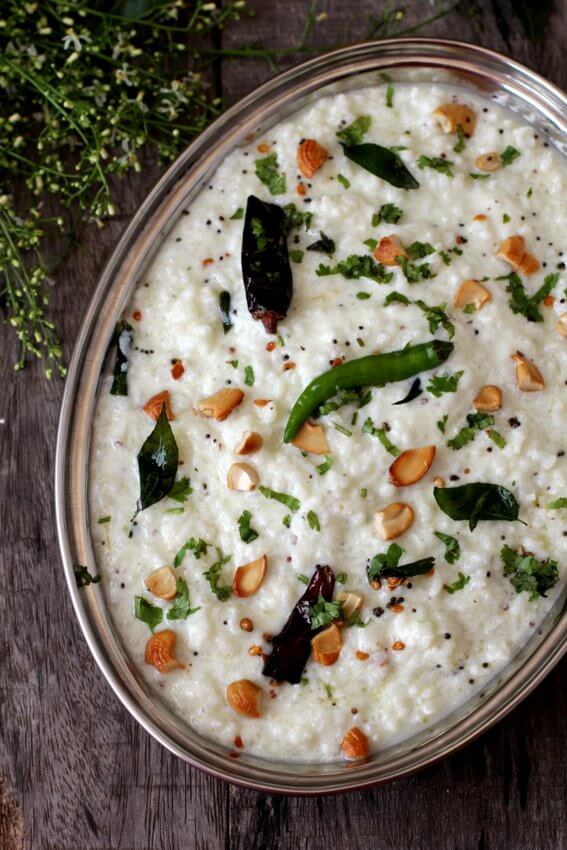 ava pettina daddojanam or mustard flavored curd rice
Ava pettina daddojanam is a classic Andhra style curd rice which is flavored with raw mustard paste. A very popular, cooling one pot meal that is much loved by the telugu people. 'Ava pettina' in English means 'mustard infused' and daddojanam means 'curd rice'. For festivals like Ugadi, many home cooks prepare curd rice as one of the festive dishes to be offered to God. I love the curd rice or thayir sadam offered in temples like Tirupati and temples in Tamil Nadu. The flavor of temple curd rice is extremely difficult to replicate at home. 🙂
Curd rice is an integral part of South Indian cusine. In Andhra, perugu annam or daddojanam is comfort food for babies, kids, adults and the elderly. It is very popular since its light on the stomach, easily digestible, cooling, healthy and tasty. During the hot summer months, curd or yogurt rice makes for a delicious meal in a bowl. I have grown up on curd rice and my meal is not complete without curd rice. Just a bowl of curd rice with a pickle by the side is enough for my mid-day meal during the hot summer months. Creamy, melt in the mouth, ultimate comfort food at its best!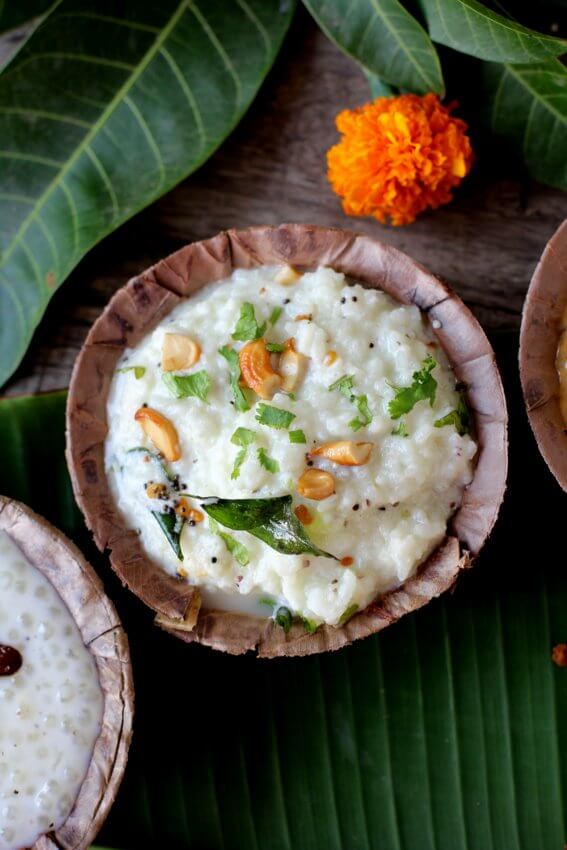 how to make curd rice
There are variations to the basic Andhra daddojanam recipe which calls for a simple tempering of mustard seeds, split gram dal, green chilis, and asafoetida with a garnish of fresh coriander. One popular variation to the basic daddojanam is the addition of chopped cucumber and/or grated carrot. Another popular variation is the addition of chopped fruit like mango or grapes or pomegranate. l
Ava pettina daddojanam recipe is a straight forward, no frills dish that is extremely flavorful. Soaked mustard seeds are crushed in a mortar-pestle to a coarse paste and added to the subtly spiced curd rice recipe. Makes for a perfect lunch box rice dish. Serve with a pickle of your choice, fried chilis or crisps and you have a flavorful, simple yet filling meal.
ava pettina daddojanam for ugadi
How to make curd rice or avapettina daddojanam