Mamidipandu perugu pachadi, a cooling, Andhra style sweet mango yogurt chutney tempered with Indian spices makes for a meal by itself on a hot summer day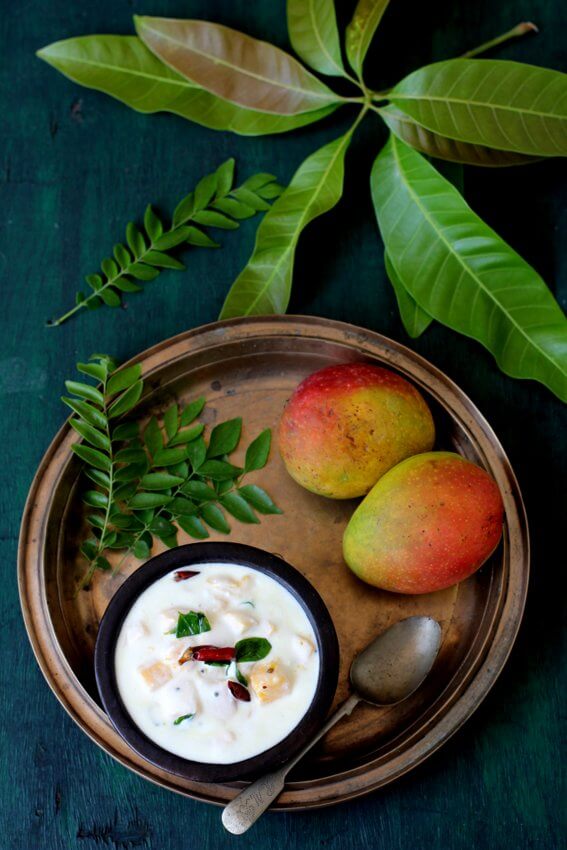 mamidipandu perugu pachadi
Mamidipandu perugu pachadi is an Andhra style ripe mango yogurt chutney that's perfect to beat the heat. One of the best-chilled yogurt recipes for cooling down when the summer heat is at its peak. Our backyard mango tree has given us a good yield this year and we could harvest quite a few mangoes before Ugadi, Telugu new year. We have been relishing the sweet mangoes, Suvarnarekha variety, in various avatars and one of them is Andhra style sweet mango chutney. It is a lip-smackingly good flavor combination. Not only is it refreshing, delicious, hydrating, filling and simple to make, it is also rich in calcium, with probiotic benefits, full of fiber and antioxidants.
One of my favorite childhood memory is relishing creamy curd rice with ripe sweet mango. In many Telugu speaking homes, the mid-day meal during summer, consists of curd rice with a generous helping of ripe sweet mango pieces as an accompaniment. One of the best food combination is perugu annam or daddojanam (curd rice or thayir sadam) with mamidipandu (ripe mango or aam). Give it a try, if you haven't yet. 🙂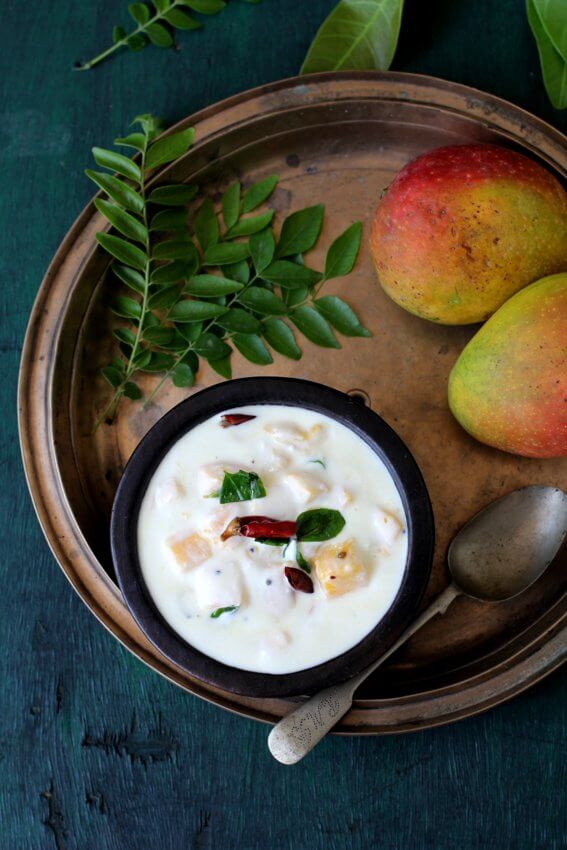 andhra style sweet mango pachadi
This mango yogurt chutney is slightly different from the North Indian style mango raita. There is no tempering of spices in the raita version while the Andhra version calls for tempering of red chilies and curry leaves. Your palette will be overwhelmed with the flavors of mamidipandu perugu pachadi. The soft, silky smooth textured beaten yogurt is infused with a tempering of red chilies and the sweet flavor of ripe mangoes. A hard to resist chutney that can be served as a dip, condiment or a side dish. I can eat a bowl of this pachadi as a meal by itself.
The natural sweetness of mangoes is enough and you do not need any extra sweetness. If the mangoes are fully ripe, you do not need any extra sweetness. You can add a dash of honey in case the mangoes are slightly tart. You will need less than 10 minutes to whip up a large bowl of Andhra style ripe mango chutney for your family who will love this refreshing, creamy and nutrient rich pachadi. A gluten free, vegetarian, healthy pachadi perfect for the Indian summer heat.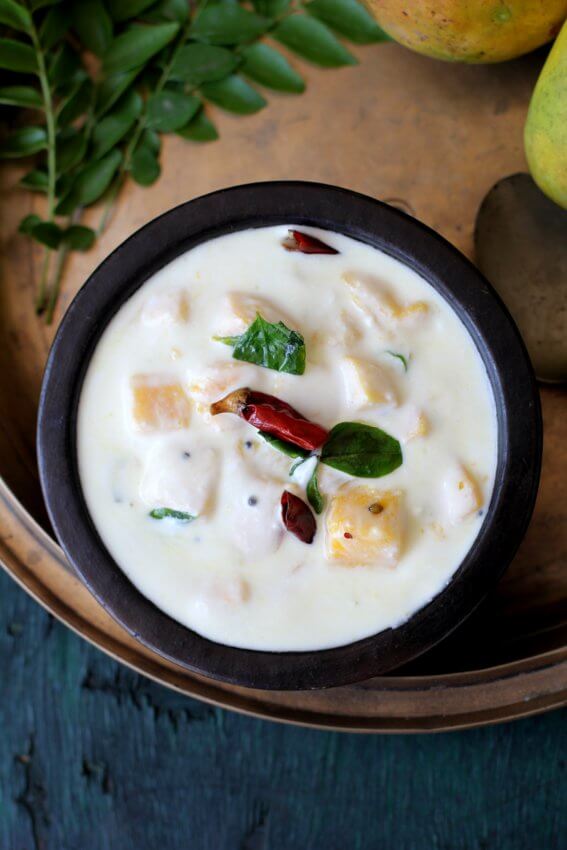 ripe mango yogurt chutney
My blog is home to a lot of pachadi varieties from Andhra and South India and I hope to add more pachadi recipes this month especially using raw mangoes. You can look forward to a LOT of raw mango and ripe mangoes recipes on the blog over the coming weeks. Tomorrow, I will post North Indian style mango raita recipe.
How to make mamidipandu perugu pachadi