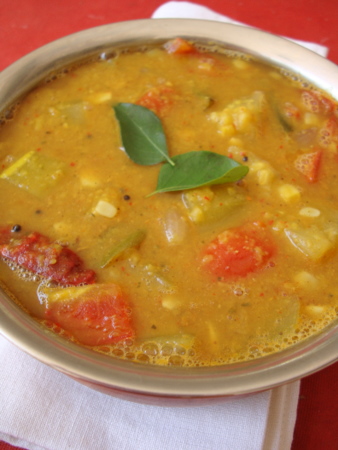 Bottle Gourd Sambar
I cannot say enough good things about today's sambar recipe. It has never let me down and its my favorite ever since I chanced upon Hemantji's sambar podi. The key to a good aromatic sambar is 'sambar powder' and the vegetables that go into its making.
There are numerous versions of sambar but this one is note worthy due to the magical sambar powder. Not only is sambar protein rich but also loaded with nutritional goodness. Tasty with earthy, sweet-tangy flavors and laced with an aromatic whiff of asafoetida and fresh curry leaves. Absolute divine taste. 🙂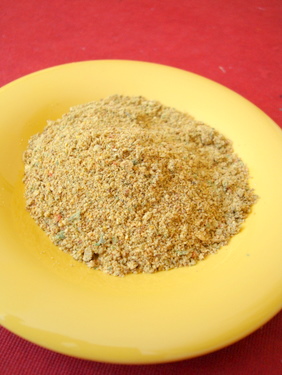 Homemade Sambar Powder
Sambar Recipe
Prep & Cooking: 45 mts
Serves 4-5 persons
Cuisine: South Indian
.
Ingredients:
1 cup tur dal
3-4 cups of cubed bottlegourd
10-12 small sambar onions (or shallots)
2 medium tomatoes quartered
pinch of turmeric
1 large lemon sized tamarind (extract the juice in 1 cup water)
1 tbsp jaggery or sugar (optional)
1 1/2 tbsps sambar powder
salt to taste
coriander leaves for garnish
For tempering/poppu/tadka:
1/2 tbsp oil/ghee
3/4 tsp mustard seeds
1/4 tsp asafoetida/hing/inguva or 3-4 crushed garlic flakes
2 dry red chilli (tear and de-seed)
10-12 fresh curry leaves
1 Pressure cook dal with 2 cups of water and a pinch of hing. Once pressure cooked, mash, add 2 cups of water, shallots, bottle gourd pieces and turmeric pwd. Bring to a boil, reduce flame and cook for 8-9 mts on low to medium flame.
2 Once vegetables are half cooked, add the tamarind extract, salt and jaggery and bring to a boil. Reduce heat and let it simmer for 12-14 mts, till the rawness of the tamarind disappears.
3 Add the sambar pwd and combine well. Let it cook for another 6-7 mts.
4 Heat oil a separate pan, add the mustard seeds and let them splutter. Add hing and red chillis and roast for a few seconds. Don't burn them. Lastly add curry leaves and immediately add to sambar.
5 Turn off heat and place lid. Keep covered for at least an hour and garnish with fresh coriander leaves.
6 Serve with tiffins or hot steamed rice and appadam (papad).
Note:
Alternatively, you can pressure cook the vegetables with little water in a separate container. Vegetables like chow chow, drumsticks, lady's finger, carrots, radish and brinjals are also welcome.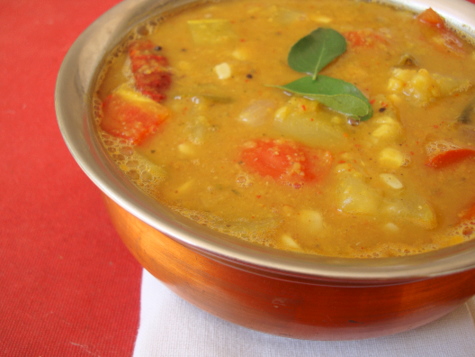 Sambhar