Dabbakaya pulihora, a tangy flavored, Andhra rice dish that's tempered with Indian spices, red chilies, and peanuts for Ugadi, telugu new year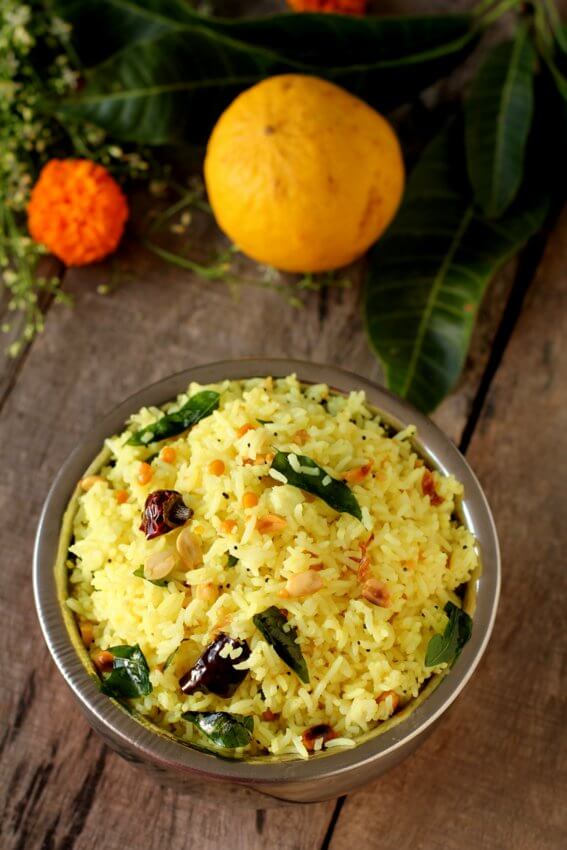 dabbakaya pulihora
Dabbakaya pulihora is a typical Andhra style rice preparation similar to lemon rice aka nimmakaya annam. A wonderful change to the south indian tamarind rice aka pulihora. Tomorrow is our Telugu new year, Ugadi and this Andhra delicacy makes for a perfect rice dish. A dear friend gifted me a few rough lemons she harvested from her kitchen garden and I put them to good use. I made dabbakaya pachadi or pickle, dabbakaya rasam (concentrated juice) and dabbakaya pulihora.
Dabbakaya is a large lemon with a rough skin and goes by the name 'rough lemon'. Many confuse it with grapefruit and pomelo. Belonging to the citrus family, it is the size of an orange and has a lesser sour flavor compared to the regular lemon. It is an excellent source of Vitamin C, rich in antioxidants and boosts the immune system.
dabbakaya (telugu), rough lime
Dabbakaya pulihora recipe is no different from lemon rice recipe (nimmakaya annam). You have to replace lemon juice with dabbakaya juice. Do add a generous amount of roasted peanuts or cashewnuts since it adds oodles of flavor. If you have access to curry leaves, do add a couple of sprigs to the tempering. I like to add at least three to four sprigs of curry leaves. It is an essential ingredient so do not avoid it. I would not suggest the use of long grain or basmati rice. Regular rice like sona masuri or sannalu works good. Ensure that the cooked rice is soft yet firm and should not become mushy.
I always make lemon rice or dabbakaya pulihora a couple of hours before lunch time. When the rice dish sits for a couple of hours the flavors meld with the rice absorbing the aromatic tempering and tangy flavor of dabbakaya giving it an addictive taste. Using a mix of green chilies and red chilies lends the right amount of heat which helps balance the tangy flavor of the rice. You can serve with crisps like papad or popaddam, pickle and thick yogurt (dahi).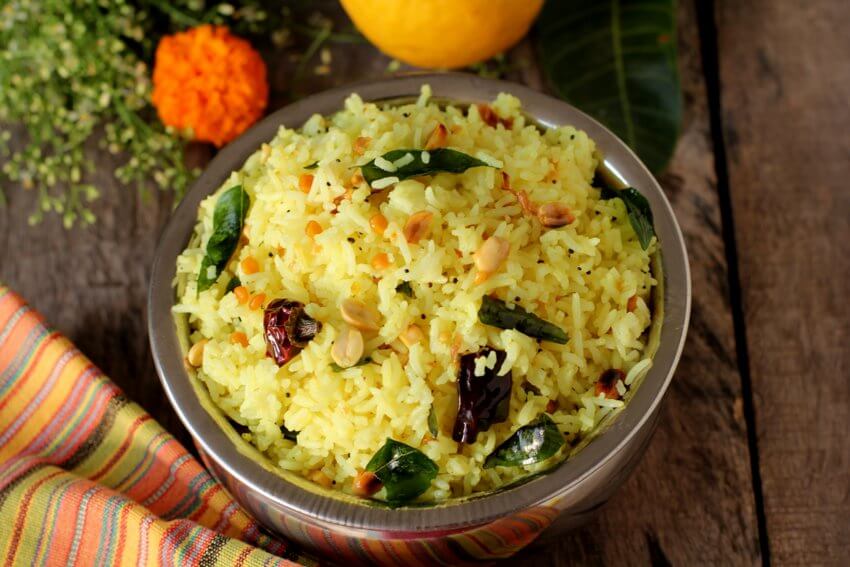 dabbakaya pulihora, rough lime flavored rice
Dabbakaya pulihora makes for an excellent festive dish for festivals like Ugadi, Ram Navami and Ganesh Chaturthi. A very simple, quick, straightforward South Indian rice preparation and a flavorful one at that.
Check out more UGADI festival recipes.
How to make dabbakaya pulihora