Mango pickle recipe, avakai or avakaya, Andhra's culinary pride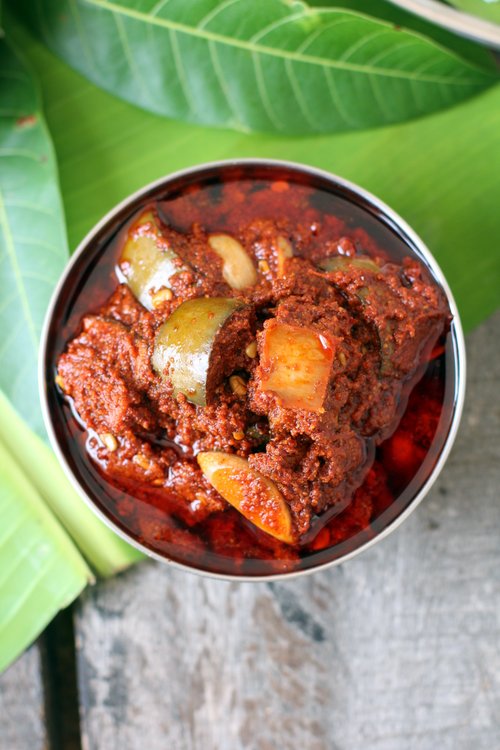 Mango pickle – Avakai
Its a known fact that Andhra is synonymous with 'avakai' or mango pickle. Andhra mango pickle goes by the name avakai or avakaya. The main ingredients of avakai are 'ava' which means mustard and 'kai' or 'kaya' meaning raw fruit. There are numerous popular variations of avakai like bellam avakai or sweet mango pickle, endu avakai (sun dried), allam avakai (ginger), nuvvu avakai (sesame seeds), pesara avakaya (moong dal), mamidikaya menthi pachadi and many more. But the king of pickles, avakai, is unbeatable in flavor. One of the best traditional culinary gems of Indian food.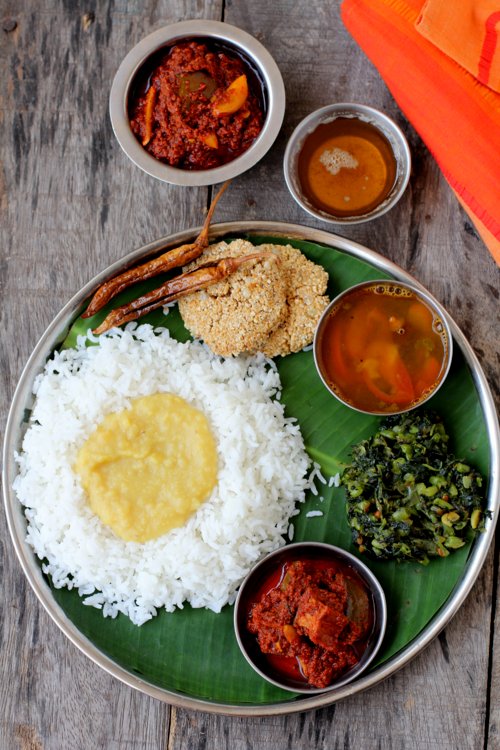 Andhra meal – steamed rice, mudda pappu, kotha avakai, ghee, thotakura vepudu, charu, homemade pelalu vadiyalu & majiga mirapakayalu
It goes without saying that no Andhra meal is complete without avakaya. We, telugu people, take pride in serving our guests a comforting Andhra meal consisting of hot steamed white rice, mudda pappu (mashed tur dal), kotha avakaya (freshly made mango pickle) with a dollop of ghee (clarified butter) along with a vegetable stir fry or curry, charu (rasam), appadam, perugu (yogurt) and majiga mirapakayalu (sun dried chilies).
The good part of summer in our part of the world in Andhra is the arrival of the king of fruits, green mangoes and kotha avakai (freshly made mango pickle). Every year, come summer, mango pickling is a culinary tradition that is followed with utmost reverence, excitement, care and love. It is a fun process where the whole family, including extended family members pitch in to make avakai and fill large jaadis (ceramic pickle jars or bharanis) with prepared avakai.
As children, we would visit our mango farm with my grandfather to watch the mangoes plucked off the tree to make mango pickle. The mangoes are supposed to be hand plucked and carefully brought off the tree without letting them fall on the ground. Even a small bruise to the mango is rendered useless to make mango pickle. Absolutely firm, mature, fiborous, unblemished, sour mangoes are required.
Once the mangoes are plucked, they are to be used the same day to prepare the mango pickle. The fresh raw mangoes are soaked in water for an hour, wiped dry and carefully cut with a special knife. It does take a special skill to cut the mangoes with the kernel (tenkai or outer core) intact and into uniform size pieces. The pith is discarded while the hard kernel is left intact and the wafer thin transparent layer lining the kernel is removed with a help of a spoon or knife. Each mango piece is then carefully cleaned with a soft cloth and laid out to be dried on a cloth for an hour or two before beginning the pickling process. If any of the pieces do not have the kernel or green skin, they are discarded. Following the pre-pickling steps meticulously is extremely crucial to achieve good results and a pickle that will last a whole year.
Mangoes cut into pieces ~ ingredients for mango pickle
The other important components of mango pickle recipe is the use of freshly ground mustard powder, red chilli powder used for making pickles, crystal salt (powdered) and cold pressed gingelly oil (unrefined sesame oil that is golden in color also called pappu nune/nuvvu nune) in telugu). Usually Bandar mirapakaayalu (a variety of red chilis), Ballari (or Bellary) or Kashmiri red chilis are used to make mango pickle. The red chilis are sun dried and ground to a fine powder. Now a days, good quality red chili powder used for pickles is available in most super markets. I would recommend using 'Three Mangoes' brand of red chili powder if using store bought chili powder.
Black mustard seeds are sun dried and freshly ground on the day of pickling so that the pickle retains the fresh flavor of mustard. You can use store bought mustard powder (used for pickles). Use of raw gingelly oil is essential to achieve the authentic, real flavor of avakai and the aroma of mango pickle depends on the type of oil used to make it. Please do not compromise on the use of gingelly oil. Second best oil would be groundnut oil.
Avakai spice powder mixture – garlic and methi seeds added to the spice mixture
We make large quantity of avakai at home but for the benefit of my readers, I am sharing the recipe to make a small batch using 3 medium sized mangoes. It is not easy to write the recipe of avakai but I will make a humble attempt to help you understand the pickling process. The best method is weighing the main ingredients. Red chili powder, mustard powder and salt should be equal in weight, i.e 100 gms red chili powder+100 gms mustard powder+100 gms salt. The thumb rule is whatever measure you use for measuring your mango pieces, the same measure of the mixture of spice powders (red chili powder, mustard powder and salt) should be used. In other words, if you use 1 cup of mango pieces, you need to mix it in 1 cup of spice mixture.
For beginners or those new to making avakai, I'd suggest you take a bowl and add 1 cup red chili powder, 1 cup mustard powder and a little less than 3/4 cup powdered crystal salt and mix it. Add this mixture to a wide bowl such that it is filled to the brim. This wide bowl will be your measuring bowl for your mango pieces too. For the above quantities of spice mixture and mangoes, you will need 1 1/4 cups oil, 1 1/2 tsps methi seeds and 1/3 cup garlic cloves.
The color of the pickle will depend on the type of chili powder and mustard powder used. If you use Kashmiri or Bandar chili powder, you will get a lovely bright orange red shade. In our home, we add methi seeds and garlic cloves to the basic avakai recipe. Love the flavor of marinated garlic in the pickle. You can use black chick peas in place of garlic.
Avakai spice mixture, gingelly oil and mango pieces mixed and added to pickle jar
Once the pickle is prepared and stored in a jar, you need to place the lid, tie a cloth over the lid and do not open the jar for at least 3 days.
avakai on 4th day before and after adding oil
On the fourth or fifth day, remove the mango pickle into a wide vessel. Mix well with a long ladle that is clean and dry (sun dry the ladle for a few minutes). Add more oil such that it almost covers the pickle as it helps preserve the pickle. Since we make large quantities, we remove the pickle from the jar and mix. If you are making small quantity, you need not remove the pickle from the jar. Mix the contents in the jar with a long ladle and pour oil on top and place lid.
I have earlier blogged Dosavakaya (yellow cucumber pickle) and important tips to follow for making pickle. Those tips will be useful for beginners.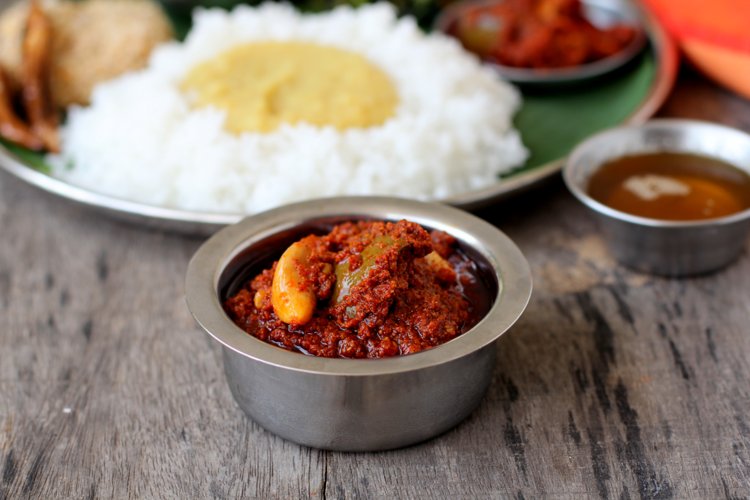 Mango pickle – andhra avakaya
As I write today's post, I cannot help but reminisce my childhood days when my grandmother would lovingly feed us 'annam muddalu' (rice balls consisting of steamed rice, mudda pappu, ghee and kotha avakai oota). Its pure, comforting, divine food. The tradition of making avakai is followed in our home religiously and am proud that we are preserving our culinary heritage. Annadata Sukhbava!
Learn how to make mango pickle recipe or avakai aka avakaya