I have many of you writing in requesting for kid friendly recipes and regular updates at Kids Zone. Yes, I do want to update both the blogs on a regular basis. My karigar (artisan) is back after a long break and I spend quite some time creating designs to be embroidered on clothes. Trying my best to juggle between different chores and get the most out of 24 hours. 🙂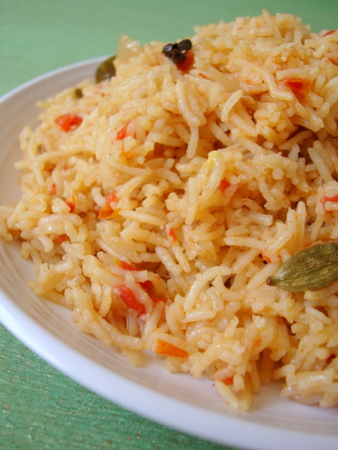 Tomato Rice
One pot dishes are my quick fix meals on busy days. I made Tomato rice today. Simple recipe with minimal spices. The sweet tart juices of tomato are beautifully absorbed by the rice yielding a subtly spiced dish that was well-loved by my family. Use nice red juicy tomatoes when trying this recipe.
Simple Tomato Rice
Prep & Cooking: 30 mts
Serves 4-5 persons
.
Ingredients:
1 cup raw rice
8-10 curry leaves
8 cloves (do not skimp on cloves)
1″ cinnamon stick
2 cardamoms
1 large onion, finely sliced
3 ripe tomatoes, finely chopped
3 green chillis, slit lengthwise
1 tsp ginger garlic paste
4-5 pudina leaves
1/2 tbsp finely chopped coriander leaves
salt to taste
1 tbsp oil + 1/4 tbsp ghee (ghee is optional)
1 Heat oil+ghee in a vessel or pressure cooker, add the curry leaves, sliced onions, green chillis, cloves, cinnamon and cardamoms and stir fry for 5 mts. Add ginger garlic paste and saute for 2-3 mts.
2 Add chopped tomatoes, pudina and coriander leaves to the sauteed onions and combine. Add salt to taste and combine well. Cook for 6-7 mts.
3 Reduce heat, add the raw rice, combine, saute for 3 mts. Add 2 cups of water and bring to a boil. Reduce flame and cook till rice is done. If using pressure cooker, cook rice upto 3 whistles.
4 Serve hot with any curry of your choice or with just pickle, yogurt and appadam.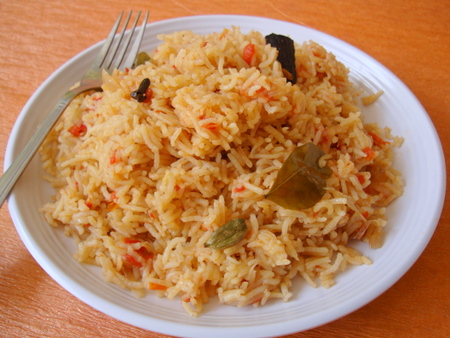 Tamata Annam