Those of you who love spinach, will love this vibrant visually delightful stir fry recipe. Its one of my favorite stir fry recipe. Since Nehal is not too fond of greens, the only way I get him to eat this stir fry is by using it as a sandwich filling, add grated cheese and make a sandwich using stove top sandwich toaster. Makes for a fabulous sandwich. 🙂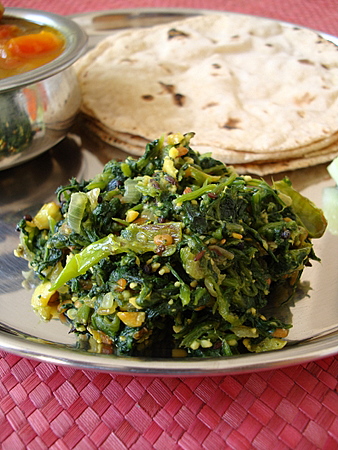 A simple, straight forward every day kind of recipe that you can be prepared in less than 20 mts. The addition of roasted chickpea powder enlivens the stir fry and gives it a great flavor. Goes well with rotis and rice. I prepared Teepi dumpala (Sweet potato) Pulusu, a sweet and tangy stew along with Palakura Vepudu and rotis for lunch today.
Palakura Vepudu Recipe
Prep & Cooking: 18-20 mts
Serves: 3-4
Cuisine: Andhra
.
Ingredients:
2 big bunches fresh spinach leaves (washed thoroughly and blanched in hot water for 3-4 mts)
1 big onion, finely chopped
pinch turmeric pwd
1 1/2 tbsps roasted chickpea/dalia/putnala pappu pwd
salt to taste
1 tbsp olive oil
For poppu/tadka/tempering:
1/2 tsp mustard seeds
1/2 tsp cumin seeds
1 tsp split gram dal/minappa pappu/urad dal
2 dry red chillis de-seeded, torn
2 green chillis, slit
5-6 garlic flakes, crushed
10-12 curry leaves
1 Chop the blanched spinach and keep aside.
2 Heat olive oil, add the mustard seeds and once they splutter, add the cumin seeds and urad dal, once the dal turns red, add the garlic flakes, red chillis, green chillis and curry leaves and saute for half a minute.
3 Add the onions and saute till transparent, approx 4-5 mts. Add salt and turmeric pwd.
4 Add the chopped spinach leaves and saute for 8-9 mts. Turn off heat and sprinkle the roasted chick pea pwd. Serve hot with rice.
Note:
Use the left over blanched spinach water to prepare roti dough.