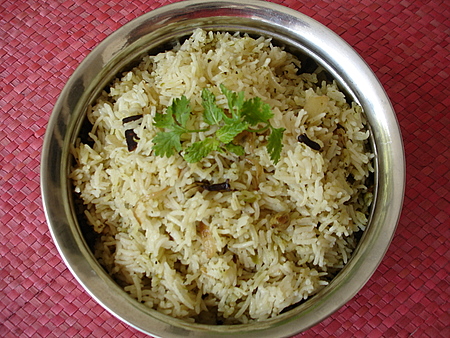 Coriander pudina rice
I know I have mentioned numerous times that I love coriander. I am partial to coriander and most often than not, add a wee bit more than the recipe calls for. Mint or pudina did not win me over right away when I was first introduced to it but over the years I have begun to like pudina's flavor and aroma especially in biryanis and pulaos.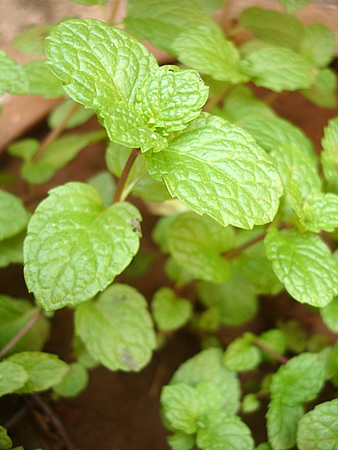 Home grown pudina
Yesterday, I prepared coriander-mint rice that is simple to prepare and delicious. Few ingredients attribute to the simplicity of this dish – pudina and coriander leaves merge with the spices to bring out an aromatic herby dish.
Coriander Mint Rice Recipe
Prep & Cooking: 35-40 mts
Serves 4-5 persons
.
Ingredients:
2 cups long grained rice
1 large onion, finely sliced
1/2 tbsp oil + 1/2 tbsp ghee
1 tsp ginger garlic paste
whole garam masala (4 cloves, 1″ cinnamom, 1 elachi, 1 star anise, 1 bay leaf)
salt to taste
Coarsely crush (do not make a paste):
1/2 cup chopped coriander leaves
1/4 cup chopped pudina leaves
2-3 green chillis
1 Heat oil+ghee in a cooking vessel, add whole spices and bay leaf and saute for a few seconds. Add the sliced onions and saute for 4 mts. Add the ginger garlic paste and crushed coriander-pudina-green chillis and saute further for another 5 mts.
2 Add the washed rice and saute for a minute. Add 3 3/4 cups water and bring to a boil. Reduce heat and cover with lid and cook till the rice is done.
3 Serve hot with raita or any curry of your choice.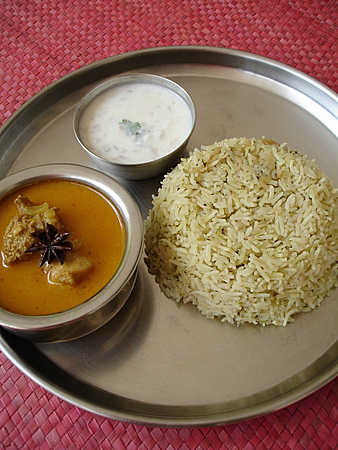 Coriander pudina rice, chicken curry and raita ~ Our weekend meal
Chicken Curry Recipe
Prep & Cooking: 40 mts
Serves 4-5 persons
Cuisine: Indian
.
Ingredients:
1 kg chicken, washed and cut into medium sized pieces
whole garam masala (2 cloves, 1 elaich, 1″ cinnamon, 1 star anise)
2 onions, very finely chopped
1 tbsp ginger garlic paste
1/2 cup yogurt
1/4 tsp turmeric
1 tsp chilli pwd
1 tbsp coriander powder
garam masala pwd (1″ dalchini and 4 cloves finely ground)
2 tbsps oil
salt to taste
Make a paste:
1 tsp roasted poppy seed pwd
2 tbsps grated coconut
2 Heat oil in a cooking vessel, add the whole garam masala and saute for a few seconds, add the chopped onions and fry till transparent.
3 Add the ginger garlic paste and fry further for another 3 mts. Add the chicken and cook on high heat for 4-5 mts, combining the ingredients once in a while.
4 Reduce to medium heat, add poppy seed-coconut paste, chilli pwd, turmeric pwd, coriander pwd and salt and combine well. Let the chicken cook in this paste for 8-10 mts, uncovered. Cook till oil separates. Add the yogurt and combine and cook for 4-5 mts.
5 Add a cup of water (add more water if you want more gravy) and combine. Cover and cook till the chicken is soft. Finally add the garam masala pwd, combine well and turn off heat.
6 Serve hot with rice, coconut rice, any flavored rice or rotis.