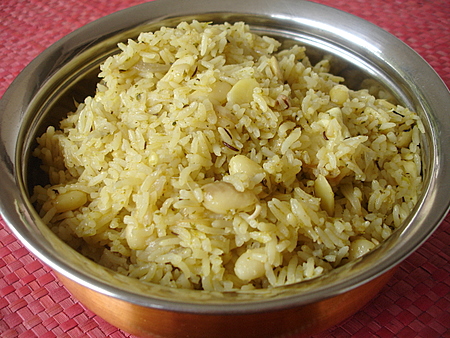 Chikkudu Ginjalu Pulao
Lima beans or Indian broad beans are popular in our parts here in Andhra and in season now. We use the ginjalu (beans) with their skin peeled to prepare a simple aromatic pulao. Except for the time taken to peel the skin (worth the effort for the recipe), the recipe is a breeze and one your family will relish.
Chikkudu Ginjalu Pulao Recipe
Prep & Cooking: 45 mts
Serves 4-5 persons
.
Ingredients:
2 cups long grained rice
1 large onion, finely sliced
1/2 tbsp oil + 1/2 tbsp ghee
1 tsp ginger garlic paste
whole garam masala (4 cloves, 1″ cinnamom, 1 elachi, 1 star anise, 1 bay leaf)
1 cup lima bean (par boil bean, remove skin)
salt to taste
Coarsely crush (do not make a paste):
1/4 cup chopped coriander leaves
10-12 chopped pudina leaves
2-3 green chillis
1 Heat oil+ghee in a cooking vessel, add whole spices, shah jeera and bay leaf and saute for half a minute. Add the sliced onions and saute for 5 mts. Add the ginger garlic paste and crushed coriander-pudina-green chillis and saute further for another 5 mts. Add the chikkudu ginjalu and saute for 3-4 mts.
2 Add the washed rice and saute for a minute. Add 4 cups water and bring to a boil. Reduce heat and cover with lid and cook till the rice is done.
3 Serve hot with raita or any curry of your choice.