Its the season for tomatoes and they are reasonably priced too. I had earlier blogged peanut tomato pachadi recipe. Today's recipe is a variation which is a garlic-y amalgam of sorts with tart, nutty, spicy flavors making it a perfect start for the day's first meal. One that is hard to resist with dosas and idlis.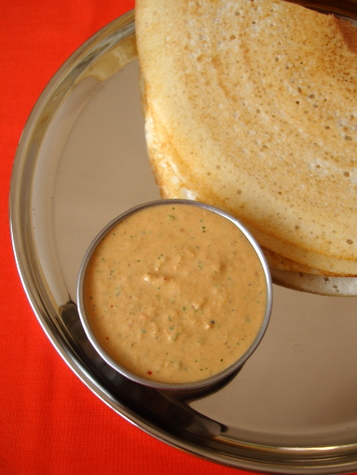 Verusenaga (Peanut) Tomato Pachadi
Verusenaga Tomato Pachadi Recipe
Prep & Cooking: 20 mts
Serves 4-5 persons
Cuisine: Andhra
.
Ingredients:
3 tomatoes, sliced
1 tbsp chopped fresh coriander leaves
1 tbsp tamarind paste (use if tomatoes are not tart)
1/2 cup roasted peanuts
1 green chilli
1-2 dry red chillis
1 tsp cumin seeds
5-6 garlic flakes
1/4 tsp jaggery or sugar
salt to taste
1 tbsp oil
1 Heat oil in a cooking vessel, add the cumin seeds and let them brown, add the garlic, red chilli and green chilli and fry for a mt. Remove from fire and cool.
2 In the same pan, add the sliced tomatoes and saute till the moisture evaporates. Add the tamarind and turn off heat. Cool.
3 Grind the roasted peanuts and the cumin mixture. Next add the cooled tomato mixture, coriander leaves, salt and sugar and make a paste. Add few tbsps of water, if required.
4 Serve with tiffins like dosa or idli.