I have been wanting to blog this recipe ever since I posted the image of Vegetables in ginger garlic with sesame seeds in the previous Vegetable Fried Rice post. I somehow overlooked until a reader politely informed me that the recipe was long due.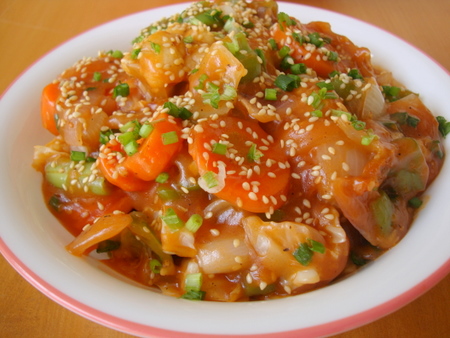 Vegetables in ginger garlic with sesame seeds
I followed Nita Mehta's recipe with few changes. A nutrition-rich, colorful mixed vegetable dish with a wonderful combination of flavors and amazing texture. The addition of sesame seeds gives it a delicious nutty taste and goes great with noodles or fried rice.
Vegetables in Ginger-Garlic with Sesame seeds Recipe
Prep & Cooking Time: 35-40 mts
Serves 4 persons
Cuisine: Indo-Chinese
.
Ingredients:
1 tbsp crushed garlic
1 tbsp ginger paste
1/4 cup spring onions, finely chopped
1 onion, quartered
2 1/2 cups vegetables (baby corn, capsicum, beans, carrot, cabbage), chopped into bite sized pieces
1 tsp light soya sauce
2 tsps vinegar
1/2 tsp brown sugar
2 tbsps tomato ketchup
1/2 tsp white pepper pwd
1 1/2 tbsp cornflour (mixed in 1 cup water)
salt to taste
1 tbsp toasted sesame seeds/til
1 1/2 tbsps sesame oil or peanut oil
1 Par boil carrots, beans, baby corn in 3 cups of boiling water and pinch of salt for 3 mts. Turn off heat, strain and cool.
2 Heat a tbsp of sesame oil in a large wok, once the oil is piping hot, add half of the crushed garlic and ginger paste and stir fry for a few secs.
3 Add the chopped spring onion whites and stir for half a mt. Add the par boiled as well as the rest of the other vegetables and stir fry on high for 4-5 mts, constantly tossing them. Add salt and pepper to taste. Remove and keep aside.
4 In the same wok, add 2 tsps of oil, add remaining crushed garlic and stir for a few secs. Add brown sugar, soy sauce, tomato ketchup and vinegar. Combine well.
5 Add the cornflour mixture and cook stirring continuously till the sauce turns thick and turn off heat.
6 At the time of serving, mix in the stir fried vegetables and garnish with toasted sesame seeds and spring onion greens. Serve hot with noodles or fried rice.