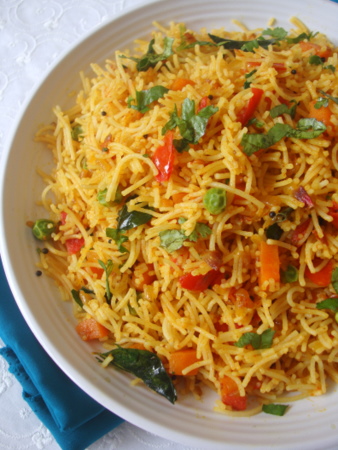 Vegetable Rice Sevai
Vegetable Sevai makes for a light, filling and quick-fix breakfast meal. Prepared pretty much the way one would prepare vermicelli/semiya. Adding vegetables of your choice makes it substantial while tofu/paneer adds a dose of protein. Sevai are a type of rice noodles popular in South India especially Tamil Nadu and Sevai preparations include coconut, lemon and tomato.
Vegetable Sevai Recipe
Prep & Cooking Time: 20 mts
Serves 4 persons
Cuisine: South Indian
.
Ingredients:
2 cups instant rice sevai (I used MTR brand)
1 finely sliced large onion
3-4 slit green chillis
1″ ginger finely chopped
pinch of asafoetida/hing/inguva
1 tomato, chopped
1 1/2 cups diced and parboiled mixed vegetables (carrot, beans, green peas)
1 tbsp chopped coriander leaves (optional)
1/2 tbsp oil
1 tsp ghee (optional)
salt
For seasoning:
1 tsp mustard seeds
1/2 tbsp split black gram
1/2″ cinnamon stick (optional)
12-15 curry leaves
1 Boil 4 cups of water and add the rice sevai along with 1/4 tsp salt and 1 tsp oil. Once the sevai is cooked (it should be just soft and not mushy), turn off heat, pour into a colander to drain completely and and keep aside. The sevai cooks fast so watch out while its boiling.
2 Heat oil and ghee in a cooking vessel, add the mustard seeds and let them splutter. Add the black gram and curry leaves and saute them till the dal turns slightly brown and a nice aroma emanates the kitchen. Add the asafoetida and mix.
3 Add the sliced onions, green chillis and ginger and saute for 4 mts. Add the parboiled vegetables and green peas. Cook for 4 mts.
4 Add the chopped tomatoes and saute on medium heat for 4 mts.
5 Now, add the cooked sevai and and mix it lightly and see that no lumps form. Garnish with coriander leaves. Turn off heat.
6 Serve hot with chutney or pickle of your choice.
Note:
For variation, garnish with grated coconut. You can added roasted cashews too.