Yesterday, I prepared Vegetable Pulao and raita. The vegetables I use for the regular pulao are carrots, beans, peas and potatoes. I rarely use cauliflower and capsicum for pulao. I use whole spices instead of masala powder which yields an aromatic mild flavor to the rice and a combination of ghee and oil for frying the vegetables which brings out their flavor beautifully.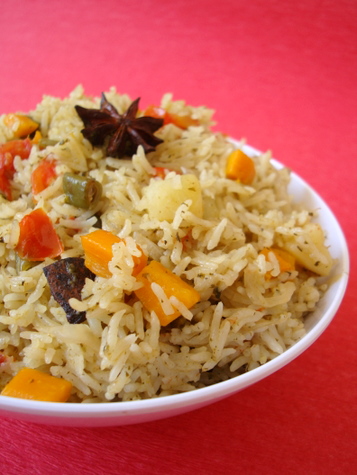 Vegetable Pulao
Its difficult giving exact proportions of ingredients and spices while writing a recipe since most of my cooking is done by 'andaz'. Sometimes, I just follow my mood and the available ingredients/spices while preparing a dish like today's recipe. I try my best to be close to the required amount of spices used in a particular dish while writing the recipe.
Vegetable Pulao Recipe
Prep & Cooking: 45 mts
Serves 4-5 persons
.
Ingredients:
2 cups basmati rice – washed and drained
1 1/2 tbsps ghee
1 tbsp oil
2 green cardamoms
4 cloves
2" cinnamom stick
1 star anise
2 bay leaves
very small pinch nutmeg pwd
2 onions finely sliced
1/2 tbsp ginger-garlic-green chilli paste
1 1/2 tbsps of fresh mint leaves/pudina, finely chopped
1 1/2 tbsps fresh coriander leaves, finely chopped
1 1/2 cups chopped mixed vegetables (beans, green peas, carrots and potatoes)
1 tomato, chopped
1/2 cup thick coconut milk
3 1/4 cups water
salt to taste
8-10 cashew nuts (lightly roasted in ghee till golden brown)
coriander leaves for garnish
1 Heat ghee and oil in a vessel, add bay leaves, cinnamon, cloves, caradamom and star anise and stir for a few seconds. Add the sliced onions, ginger-garlic-green chillis paste. Saute the onions till they turn transparent.
2 Add the coriander and mint leaves and saute for 2-3 mts. Add the chopped mixed vegetables and cook on medium for 4-5 mts.
3 Add a chopped tomato and stir fry for a minute. Add the drained rice and saute for 2 mts.
4 Add the coconut milk and water. Bring to a boil.
5 Add salt and nutmeg pwd and reduce heat to low-medium and cook covered with lid.
6 Once the rice and vegetables are cooked, turn off heat. Add fried cashew nuts and garnish with fresh coriander leaves.
7 Serve warm with raita.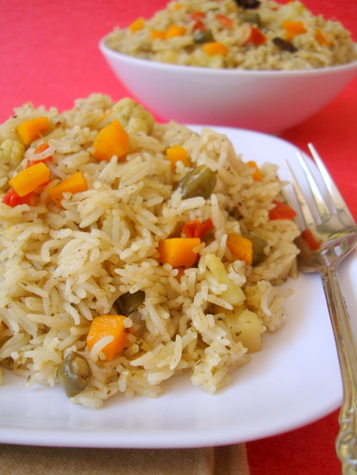 Vegetable Pulav