Pachi (raw) Pulusu (stew prepared with tamarind) is a traditional classic Andhra dish, made with simple ingredients and served with hot steamed rice, mudda pappu (cooked tur dal) and vadiyalu. It also goes very well with pulagam or kandi pachadi and rice. I love this recipe for its utter simplicity and not to mention, its completely addictive!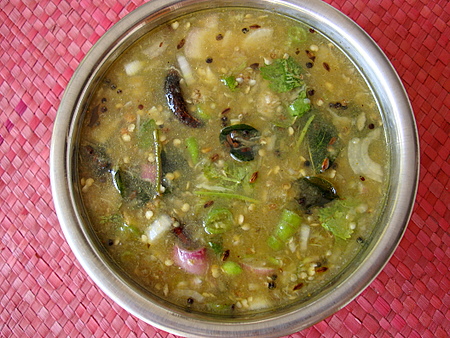 Vankaya Pachi Pulusu
Mashed roasted white brinjals are combined with raw tamarind, jaggery, chopped onions, green chillis and spices to impart an aromatic stew, Vankaya pachi pulusu. The sweetness of jaggery balances out the tangy flavor of tamarind and the spice of green chillis while the addition of curry leaves along with tempering intensifies the flavor. Biting into crunchy raw onions and savoring the sweet-tangy smoky flavor of this earthy colored pulusu with rice, is heaven on earth.
Vankaya Pachi Pulusu Recipe
Recipe source: Amma
Prep & Cooking: 20-25 mts
Serves 3-4 persons
Cuisine: Andhra
.
Ingredients:
1 very large brinjal (preferably white or else purple)
1 onion, finely chopped
small lemon sized tamarind (soak in a cup of warm water for 10-12 mts, extract thick pulp)
1-2 green chillies, finely chopped
1 1/2 tbsp grated jaggery (adjust)
1 tbsp finely chopped coriander leaves
1 1/2 cups water
salt to taste
Poppu/Tadka/Tempering:
1-2 dry red chillis, tear and de-seed
1/2 tsp mustard seeds
1/2 tsp cumin seeds
1/2 tsp split gram dal/urad dal/minappa pappu (optional)
1/4 tsp asafoetida/hing/inguva or 2-3 crushed garlic flakes
10-12 fresh curry leaves
1 Grease the brinjal with oil and roast over low heat. To ensure even cooking rotate the brinjal. Remove from flame sprinkle water and leave aside to cool for 8-10 mts. Peel the skin and mash the pulp.
2 Place this mashed pulp in a large bowl, add chopped onions, green chillis, tamarind extract, jaggery and salt. Combine well to form a thick paste. Add water to form a flowing consistency. See that the jaggery is completely dissolved.
3 Heat oil a pan, add the mustard seeds and let them splutter. Add the cumin seeds and urad dal and let the dal turn red. Add the red chillis, hing and curry leaves, fry for a few more seconds. Don't burn them. Immediately add to the brinjal-tamarind mixture and combine well.
5 Adjust the salt and garnish with chopped coriander leaves.
6 Serve with pulagam OR hot steamed rice, mudda pappu and vadiyaalu.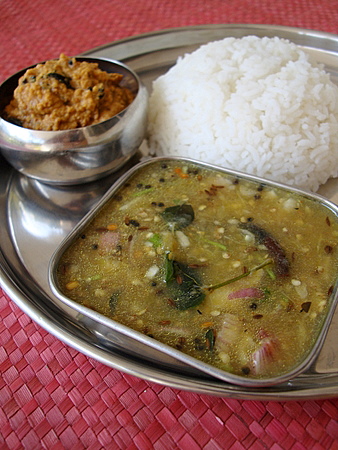 Vankaya pachi pulusu, Kandi pachadi with rice