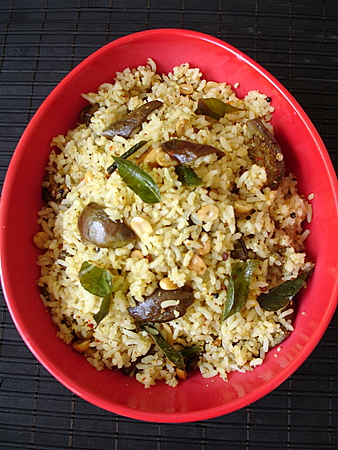 Vangi Bhath
Brinjal is a prized possession in my kitchen. I know a few of you will wince on reading that. I love brinjal cooked in any form! This vibrant purple beauty has always been my favorite since childhood.
Yesterday there was a bit of chill in the air with no sunlight, pretty dull kind of weather that called for a spiced one pot dish like Vangi Bhath aka Brinjal Rice. There are a good number of Vangi Bhath Masala versions based on the region its prepared. Many spices go into the making of Vangi Bath masala and if you think too many spices might overwhelm the rice dish, you are wrong, as each spice lends a unique flavor of this brinjal rice.
The recipe I have followed is from Karnataka where cooked rice is accented with brinjals, curry leaves, roasted peanuts and a lot of spices. It's finished with an all-important garnish of roasted peanuts and a dash of lemon juice (this particular recipe has lemon juice as an ingredient). Combined with cooked rice, the fresh taste of roasted brinjals in aromatic spices can be savored as a one pot meal without any sides to accompany it. Equally delicious when eaten with plain yogurt and papad.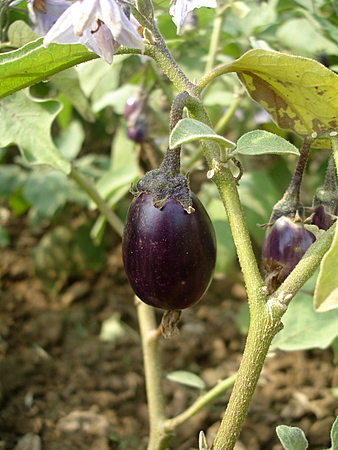 Home grown brinjals
Next on my to-be-tried list is prepare Vangi Bhath using Goda Masala, the Maharastrian version of brinjal rice
Vaangi Bath Recipe
Prep & Cooking: 30 mts
Serves 4-5 persons
Cuisine: Karnataka
.
Ingredients:
1/2 kg raw rice (cook rice such that each grain is separate, add a tsp of ghee and lemon juice to the rice and combine)
1/4 kg green or purple brinjals (thinly slice into 2″ pieces and place in salted water)
1 1/2 tbsps oil
1 tsp mustard seeds
1 tsp channa dal (optional)
15 fresh curry leaves
pinch of turmeric pwd
2-3 tbsps roasted groundnuts
1/2 tbsp lemon juice (optional)
salt to taste

To be roasted and ground to a fine pwd:
3 dry red chillis (adjust to your spice level)
1 tsp coriander seeds
1/4 tsp khus-khus/gasagasalu/poppy seeds
large pinch cumin seeds
1/2 tbsp black gram dal (minappappu)
1/2 tbsp bengal gram/channa dal/senaga pappu
1/2 tbsp grated dry coconut
1 Marathi moggu
1" cinnamon stick (dalchinichakka)
1 clove
1/4 tbsp sesame seeds
1/4 tsp hing/inguva/asafoetida
1 tsp oil
1 Heat a cooking vessel on medium heat and dry roast cumin seeds and coriander seeds, clove, marathi moggu, cinnamon and dry chillis for 2 mts. Remove and keep aside. In the same pan, add oil, add channa dal and urad dal and fry for two minutes till they turn red. Remove and keep aside. Add khus-khus, sesame seeds and grated coconut and fry for a minute and turn of heat. Add hing and stir fry for a few seconds. Cool and grind all the roasted ingredients to make a powder.
2 In the same vessel, add oil and once its hot, add mustard seeds and let them splutter. Add the channa dal and once it turns red, add curry leaves and let the flavor of the curry leaves come out.
3 Add the brinjal pieces, turmeric pwd and salt and fry for 25-30 minutes or till almost cooked.
4 Add the ground vangi bath masala pwd and combine well and cook further for another 2-3 mts. Add the cooked rice and combine with the brinjal-spice mixture.
5 Add the roasted peanuts and adjust salt and combine with the rice.
6 Serve hot with yogurt and appadam. A one-pot complete meal!
Note:
This rice can be prepared using other vegetables like carrots, tindora, okra etc. The peanuts add to the flavor, so don't skip this step.