Little pearl onions aka shallots have an intense flavor and give curries an immense flavor, be it vegetarian or meat based. I use them a lot in my regular cooking and today's vegan recipe has shallots as the star ingredient. You cannot make this recipe with the regular white or yellow onions.
The combination of tamarind, spices and jaggery meld with the shallots to yield an amalgam of flavors that are addictive making you want to eat more and more. Seriously. Eat it with rice, brown rice, roti or dosa, you will love it.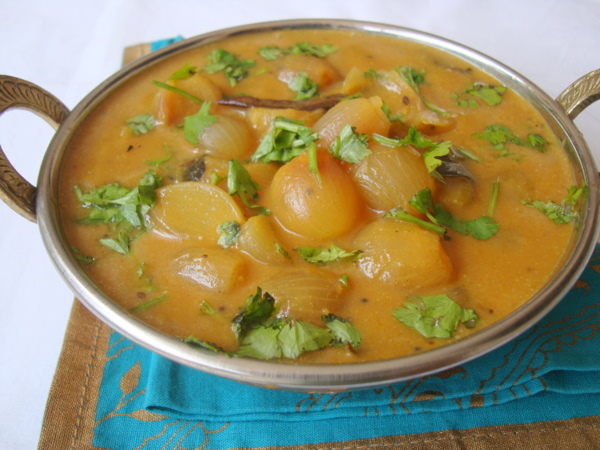 Ullipaya Pulusu ~ Tangy Shallot Stew
Ullipaya Pulusu Recipe
Recipe source: Amma
Prep & Cooking: 35-40 mts
Serves 4-5 persons
Cuisine: Andhra
.
Ingredients:
25-30 small sambar onions (or shallots)
1 tsp ginger garlic paste
pinch of turmeric
1 tsp red chili powder
3/4 tsp coriander powder
1/4 tsp roasted cumin powder
large pinch roasted methi powder
1 medium lemon sized tamarind (extract the juice in 1 cup water)
1/2 tbsp jaggery or sugar
salt to taste
1 heaped tsp besan/chickpea flour/senagapindi mixed in 2 tbsps water (for thickening the stew)
fresh coriander leaves for garnish
For tempering/poppu/tadka:
1 1/2 tbsps oil
1/2 tsp mustard seeds
1/2 tsp cumin seeds
pinch of fenugreek seeds/menthulu/methi
1 dry red chilli
10-12 fresh curry leaves
1 Heat oil in a heavy bottomed vessel, add the mustard seeds and let them jump around. Add the cumin seeds, fenugreek seeds, red chili and fry for few secs till they turn brown. Don't burn them. Lastly add curry leaves, followed by the shallots.
2 Saute the shallots for 5-6 mts. Add ginger garlic paste and saute for another 4-5 mts. Add red chili powder, coriander pwd, cumin pwd and roasted methi pwd. Mix.
3Add the tamarind extract along with 1 1/2 cups of water, salt and jaggery and bring to a boil. Reduce heat and let it simmer for 10-12 mts, till the rawness of the tamarind disappears.
4 Towards the end of the cooking process, add the besan water and mix. Cook for 2 mts and turn off heat.
5 Add half of the fresh coriander and keep covered for a few minutes before serving.
6 Remove onto a serving bowl. Garnish with the remaining fresh coriander and serve with hot steamed rice, vadiyaalu and appadam (papad).