I love to prepare this easy, breezy pachadi simply because I relish the peanut-ty flavor. The color is very appealing in its brightness with a marvelous mix of sweet, tart and spice flavors. Goes very well with dosas and idlis. I served the chutney with sponge dosa.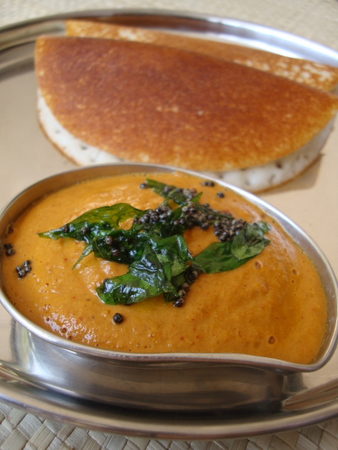 Tomato Peanut Chutney with Poha aka Sponge dosa
Tomato Peanut Chutney Recipe
Prep & Cooking: 20-25 mts
Serves 4-5 persons
Cuisine: South Indian
.
Ingredients:
3 tomatoes
1/2 cup roasted peanuts
2 green chillis
pinch of turmeric
1 tbsp tamarind paste (use if tomatoes are not tart)
4 dry red chillis (adjust)
salt to taste
2 tsps oil
For tempering/tadka/poppu:
1 tsp oil
1/2 tsp mustard seeds
pinch of asafoetida/inguva/hing
10-12 fresh curry leaves
1 Heat oil in a cooking vessel, add the red chillis and fry for a mt. Add the chopped tomatoes and cook till they turn soft and goey.
2 Add the green chillis and turmeric pwd combine. Add salt and turn off heat and cool.
3 Grind the roasted peanuts and then add the cooled tomato mixture and tamarind paste and make a coarse paste.
4 Heat oil in a pan, add the mustard seeds and once they splutter add the asafoetida and curry leaves and turn off heat.
5 Serve with tiffins like dosa or idli.