There's something very cheerful about tomatoes and when I use them to prepare the first meal of the day, I feel good. I made a tomato based chutney to go with sponge dosas for breakfast today. Made for a delectable combination. Calcium rich sesame seeds play a vital role in this vibrant colored chutney that is simple yet impressive. Asafoetida-infused tempering adds a subtle backdrop to the chutney which has a tangy-nutty flavor.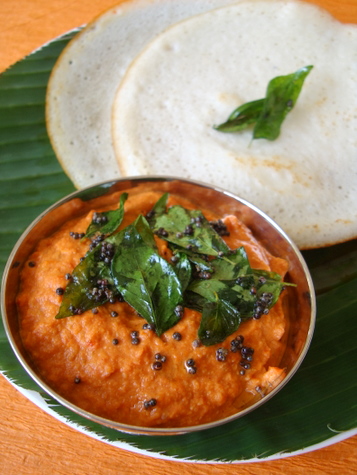 Tomato Nuvvula Pachadi
Tomato Nuvvula Pachadi Recipe
Prep & Cooking: 20-25 mts
Serves 4-5 persons
Cuisine: Andhra
.
Ingredients:
4 tomatoes
2 tbsps toasted sesame seeds
2 green chillis
1 dry red chilli
1/2 tsp cumin seeds
1 1/2 tsps urad dal/minappa pappu
1 tbsp tamarind paste
salt to taste
2 tsps oil
For tempering/tadka/poppu:
1 tsp oil
1/2 tsp mustard seeds
pinch of asafoetida/inguva/hing
10-12 fresh curry leaves
1 Heat oil in a cooking vessel, cumin seeds and urad dal and red chilli and saute till the dal turns red. Remove and keep aside.
2 In the same oil, add the green chillis and saute for a mt, remove and keep aside. In the same oil add the sliced tomatoes and fry for 8-9 mts or till the water evaporates. Turn off heat. Add the tamarind to the sauteed tomatoes and let it cool.
3 First grind the cumin-dal mixture along with sesame seeds and then add the cooled tomato-tamarind mix and salt and grind to a paste.
4 Heat oil in a pan, add the mustard seeds and once they splutter add the asafoetida and curry leaves and turn off heat. Pour over chutney and combine.
5 Serve with tiffins like dosa or idli.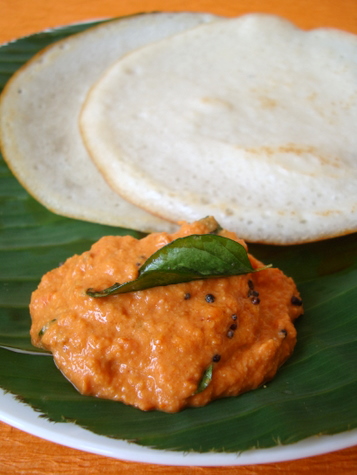 Tomato Sesame Chutney