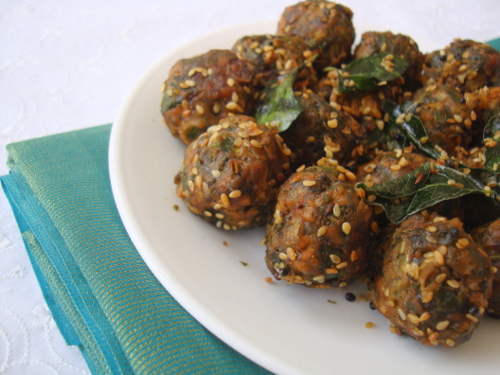 Thotakura Undalu
Amaranth leaves (Chauli/Thotakura) are much loved in our home and take the form of stir fry, dal and stew in our daily meals. In recent past, I have used these nutritious greens along with chick pea flour (besan) to prepare fritters. They are easy to make, work great as appetizers for parties and also make for a wonderful tea time snack.
These vegan crispy green leafy balls taste best when warm. Try them the next time you bring home some amaranth greens and you'll want to invite your friends just to serve them a perfect finger food treat.
Thotakura Undalu Recipe
Prep & Cooking: 25-30 mts
Makes approx 20-22 balls
Cuisine: Andhra
.
Ingredients:
3 cups washed and chopped amaranth greens/chauli/thotakura (packed)
1/2 besan/senaga pindi/chick pea flour
3-4 finely chopped green chillis
1 tsp ginger garlic paste
1 tsp cumin seeds
1/2 tsp red chili powder
salt to taste
water as required
oil for deep frying
1 tbsp fresh grated coconut
Tempering/Poppu/Tadka:
1 1/2 tbsps white sesame seeds
few curry leaves
2 dried red chilies, tear and de-seed
1/2 tsp mustard seeds
pinch of asafoetida/hing/inguva
2 tsps oil
1 In a bowl, add the chopped amaranth greens, green chilles, ginger-garlic paste, red chili powder, cumin seeds, besan and salt. Add little water to make a dough such that you can make small balls. Make small balls and keep aside.
2 Heat oil in a deep frying vessel. Once its piping hot, reduce flame to medium and drop the balls gently into the oil and fry them to a golden brown color. Deep fry a batch of 8-10 balls depending on the size of the vessel.
3 Heat 2 tsps oil in a pan, add mustard seeds and allow to splutter. Add sesame seeds, red chilies, hing and curry leaves and saute for a few seconds. Add the balls to the pan and mix well. Turn off heat and sprinkle fresh grated coconut.
4 Serve warm with a cup of masala chai.