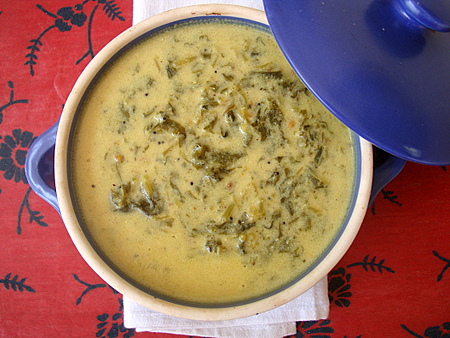 Thotakura Majiga Pulusu
Visited the Rythu Bazaar (Farmer's Market) yesterday. It's a delight visiting the market in the winter season and watch vendors selling vibrant farm fresh winter vegetables like carrots, beetroot, cauliflower, green peas, pumpkin, capsicum to name a few and fresh greens like methi. Picked up loads of fresh methi, amaranth and spinach leaves.
It's a green(s)-intensive menu this week. Yesterday it was spinach soup and today I prepared an aromatic and flavorful stew featuring amaranth leaves, yogurt, coconut and green chilies. A classic healthy Andhra recipe that is sure to warm the body and soul.
Thotakura Majjiga Pulusu Recipe
Prep: 15 mts Cooking 20 mts
Serves 4-5 persons
Cuisine: Andhra
.
Ingredients:
3 1/2 cups chopped amaranth leaves/thotakura/chauli, packed
1 onion, sliced
1/4 tsp turmeric pwd
2 cups thick curd (slightly sour curd)
1 1/2 cups water
salt to taste
For paste:
4 tbsps grated fresh coconut
3 green chillis
1 tbsp fresh coriander leaves (optional)
For seasoning/poppu/tadka:
1/2 tsp mustard seeds
1/4 tsp methi seeds
1/2 tsp cumin seeds
1/4 tsp hing/asafoetida (optional)
10-12 fresh curry leaves
1-2 dry red chilli, de-seed and tear (optional)
1/2 tbsp oil
1 Add half a cup of water to thotakura (1/2 tsp salt) except the onions and cook till they are half-cooked. Keep aside.
2 Make a paste of grated coconut, green chillis and coriander leaves without adding any water.
3 Beat the curd well adding water to form a smooth sauce like consistency. Combine the ground paste with the beaten curd and keep aside.
4 Heat oil in a pan, add mustard seeds and let them pop, add the cumin seeds, methi seeds and let them turn slightly brown. Add the curry leaves, red chilies and asafoetida, turmeric pwd and toss for a few seconds. Add the onions and saute for 4 mts before adding the half cooked thotakura (along with left over water if any) and combine well.
5 Add the curd-coconut mixture and on low heat, cook stirring continuously, otherwise it might curdle. Adjust the salt and cook till the leaves absorb the flavors and the gravy thickens. Do not boil. Turn off heat. Cover lid and let it sit for a few minutes before serving for the flavors to absorb.
6 Serve with white rice.