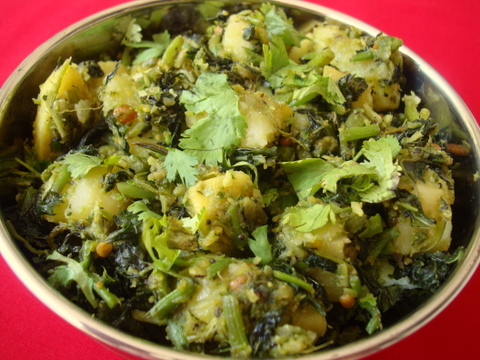 Thotakura Bangaladumpa Vepudu
A mild and sweet flavored stir fry using amaranth leaves and potatoes. I have used the leaves and tender stalks of amaranth that were par boiled and sauteed along with boiled potatoes in a paste of coconut, green chillis, ginger and cumin. Makes for a good side with rice or rotis.
Thotakura Bangaladumpa Kura Recipe
Prep & Cooking: 40 mts
Serves: 3-4
Cuisine: Andhra
.
Ingredients:
4 big bunches fresh amaranth leaves (picked, use tender stalks) chopped
1 onion, finely chopped (optional)
2 potatoes, boiled, peeled and cubed
big pinch turmeric pwd
salt to taste
1 tbsp oil
Make a coarse paste:
1/2 tsp cumin seeds
1 1/2 tbsps coriander leaves
2 green chillis
1″ ginger
1 tbsp dalia/putnala pappu
1 tbsp coconut
For popu/tadka/seasoning:
1/2 tsp mustard seeds
1 tsp split gram dal
1 dry red chilli, de-seeded
1 sprig curry leaves
pinch of asafoetida/hing
1 Boil the chopped amaranth leaves in just enough water (half a cup of water, approx) for 5-6 mts. Drain the left over water and use it to prepare chapati dough.
2 Heat oil, add the mustard seeds and once they splutter, add the split gram dal, red chillis, curry leaves and saute for half a minute. Add asafoetida and stir for 2-3 seconds.
3 Add the ground paste and salt and stir fry for 2 mts. Add salt and turmeric pwd and saute further for few secs.
4 Add the boiled amaranth leaves and potatoes and cook for 12-14 mts with lid. Stir in between. Turn off heat and garnish with coriander leaves. Serve hot with rice.
Note:
Another variation is to soak a tbsp of yellow moong dal (instead of putnala pappu) for a few mts, drain and grind it along with green chillis, coconut and coriander leaves.
Info on Amaranth greens – very good source of vitamins including vitamin A, vitamin B6, vitamin C, riboflavin, folate, dietary minerals including calcium, iron, magnesium, phosphorus, potassium, zinc, copper and manganese.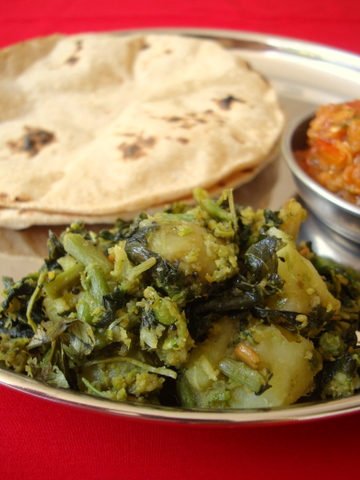 Our meal today ~ Phulka, Amaranth leaves Potato and Roasted Brinjal and Tomato Pachadi