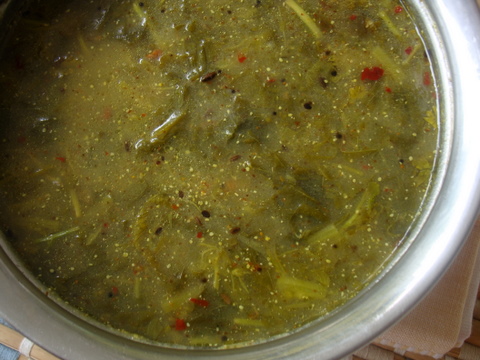 The flavor combination of today's recipe is intriguing and enticing. Simple everyday traditional Andhra pulusu (tangy stew) prepared with amaranth greens, tamarind pulp and spices. The addition of a magical ingredient aka mustard powder elevates the flavor profile by leaps and bounds. A must-try for all you Amaranth fans out there. 🙂
Thotakura Ava Pulusu Recipe
Prep & Cooking: 30 mts
Serves 4-5 persons
Cuisine: Andhra
.
Ingredients:
2 1/2 cups finely chopped thotakura leaves and stalks (tightly packed)
1 big onion finely chopped
4 green chillis slit length wise
1/4 tsp turmeric pwd
small lemon sized tamarind (soak in a cup of warm water and extract)
1-2 tsps jaggery or sugar
1 tsp rice flour
3/4 tsp mustard seeds + 1 red chili, ground to a coarse pwd
salt to taste
For tempering/poppu/tadka:
1 tbsp oil
1/2 tsp mustard seeds
1/2 tsp cumin seeds
1/4 tsp methi seeds
1 tsp split black gram dal (optional)
1-2 dry red chillis (tear into pieces)
5 garlic flakes crushed or large pinch asafoetida
10-12 curry leaves
1 Heat oil in a heavy bottomed vessel, add mustard seeds, let them pop, add the cumin seeds, methi seeds and let them turn slightly red. Add split gram dal and let it turn red. Add garlic, red chillis, curry leaves, chopped onions and green chillis and sauté till onions turn slightly pink (approx 3-4 mts).
2 Add the thotakura leaves and stir fry for 4 mts. Add the turmeric pwd and salt and mix. Cover with lid and cook till the greens cook (approx 7-8 mts).
3 Add the tamarind extract and jaggery and mix well. Add 1 1/2 cups of water and cook for another 9-10 mts or till the rawness of tamarind disappears. Sprinkle the rice flour and mix and you will find that the gravy thickens. Cook for a minute, add mustard pwd and mix. Turn off heat.
4 Serve with white rice.
Blanching of amaranth leaves Boil 2 cups water in a deep vessel. Add salt, pinch of turmeric pwd and chopped amaranth leaves and cook over medium flame for 5 mts. Strain and use left over water to prepare chapati dough and use the blanched leaves and stalks as called for in the recipe. For the above recipe the leaves were not blanched. If using blanched thotakura, reduce the cooking time before adding water.