Coconut usage in our kitchen is pretty moderate inspite of growing 8 coconut trees in our garden. A large percentage of tender coconuts are devoured by us for coconut water, few mature ones find place in our kitchen, few sent to relatives and friends (especially during Dasara and Karthika Masam) while the remaining are sun dried to extract coconut oil.
Coconut trees surrounding our home ~ Home grown coconuts
The sun-drying part is labor-intensive but thanks to my 'Man Friday' (errand man, driver, malli, home maintenance help, cricket/carrom board/board games etc partner to Nehal) who does it, including peeling the coconuts as and when required. My maid helps with grating the coconuts using a traditional coconut grater. God bless them! The peeled husk find place in my maid's kitchen to heat up her mud stove.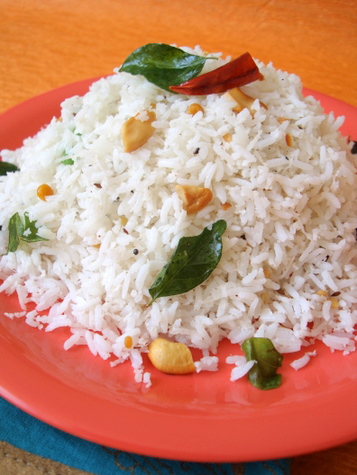 Thengai Sadam ~ Coconut Rice
Today, I prepared South Indian style coconut rice for lunch. It was quick to prepare and I had time to attend few odd jobs before Nehal returned home from school.
Thengai Sadam Rice
Prep & Cooking: 30 mts
Serves 4-5 persons
.
Ingredients:
2 cups raw rice, wash, cook such that each grain is separate
10-12 fresh curry leaves
1 cup grated fresh coconut
salt to taste
For poppu/tadka/seasoning:
1 tbsp coconut oil OR 1/2 tbsp oil+ 1/2 tbsp ghee
1 tbsp channa dal
1 tsp urad dal
1 1/2 tbsps broken cashew nuts
1/2 tsp mustard seeds
3/4 tsp cumin seeds
1/4 tsp asafoetida
3-4 green chillis, slit lengthwise
1 dry red chilli, tear and de-seed (optional)
7-8 fresh curry leaves
1 Spread the cooked rice on a wide plate and allow to cool. Season with salt and add fresh curry leaves. Keep aside.
2 Heat coconut oil OR oil+ghee in a vessel, add mustard seeds and as they jump around, add the cumin seeds, urad dal, channa dal and cashewnuts allow them to turn red. Add the red chilli, green chillis, curry leaves and asafoetida and roast for a few secs. Add grated coconut and combine and saute for 2-3 mts on low flame. Turn off heat.
3 Add the seasoning to the rice and combine well.
4 Serve hot with any curry of your choice or with just pickle and appadam.