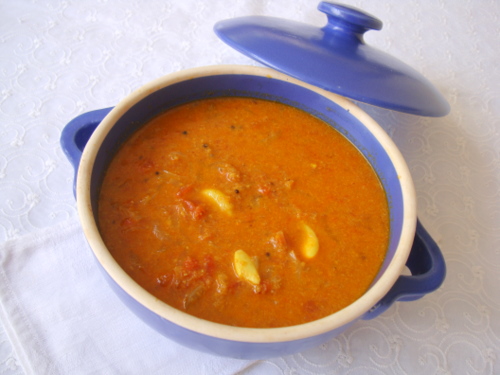 Thakkali Kulambu ~ Chettinadu Style Tomato Curry
Picked a whole lot of almost ripe tomatoes at the farmer's market a few days ago and my pantry looks very colorful as the tomatoes ripen to a brilliant red shade. I put a few to good use yesterday when I prepared tomato pepper rasam and today I used a few ripe ones to make a Chettinadu Style Thakkali Kulambu. Basic Kulambu is nothing but a tangy stew with endless variations based on the region its cooked.
I first tasted this Kulambu recipe at a Tamilian friend's home. Her mother served us Thakkali Kulambu with Dosa and I fell in love with it. It makes for a delectable accompaniment with dosa, idli, chapati, pongal and rice. Spices like cinnamon, clove and cardamom bring a flavor and fragrance of their own while jaggery and coconut add a dose of sweetness that balance and complement the flavor of tangy tomatoes.
Thakkali Kulambu Recipe
Prep & Cooking: 35 mts
Serves: 4-5 persons
Cuisine: Tamil Nadu
.
Ingredients:
5 large ripe tomatoes, chopped (use tomatoes that are slightly tangy)
15-20 shallots, peeled
1 onion, finely chopped
1/4 tsp turmeric powder
1 tsp red chilli powder (adjust)
1/2 tsp black pepper powder
1/2 tsp fennel powder
1 tsp coriander powder
salt to taste
1 tsp grated jaggery
2 tbsps coconut paste
1 1/2 tbsps oil
Tempering/Poppu/Tadka
1 tsp mustard seeds
1 tsp cumin seeds
1″ cinnamon
1 clove
1 cardamom
10 garlic cloves
few curry leaves
1 Heat oil in a vessel. Add the mustard seeds and let them pop. Add cumin seeds and as they splutter, add garlic cloves, cinnamon, clove, cardamom and curry leaves and saute for 8-10 seconds.
2 Add the shallots and chopped onions and fry for 4 mts. Add the chilli pwd, turmeric pwd, black pepper pwd, coriander pwd, saunf pwd and salt. Mix well.
3 Add the chopped tomatoes and cook on medium heat uncovered for 4-5 mts. Reduce heat and cook covered for 7-8 mts.
4 Add 2 1/2 cups of water, jaggery, adjust salt and cook covered for 10-12 mts. Add the coconut paste and mix and cook till you get the desired gravy consistency.
5 Garnish with fresh coriander leaves and serve with hot chapatis, rice, pongal, khichidi, idli or dosas.
Tomato Kulambu