Sweet Corn Vegetable Soup
Sweet Corn Vegetable Soup
Today I have for you Sweet corn vegetable soup. I don't know what took me so long to post my favorite soup recipe. I LOVE sweet corn vegetable soup and sweet corn chicken soup! And it doesn't need to be winter or monsoon to enjoy my favorite soup. I can relish this bright and flavorful soup any time of the year. Seriously.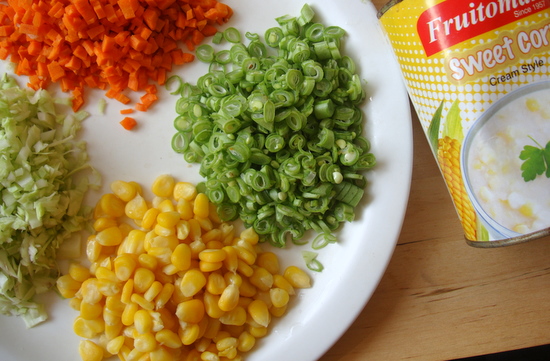 Ingredients for sweet corn vegetable soup
A comforting, thick and filling vegetarian soup without being heavy. Delicately flavored broth that has carrots, corn kernels, cabbage and beans going into it. Extremely easy to prepare provided you have cream style corn on hand. Of course, you can make your own cream style corn but I usually buy ready made cream style corn. So, ready to re-create restaurant style sweet corn vegetable soup at home?
Sweet Corn Veg Soup