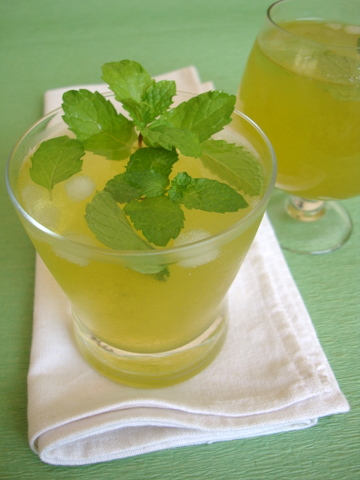 Ginger Mint Lemonade
Mint-y, ginger-y, tang-y lemonade – one of my favorite thirst quencher for those hot sultry days. Nothing to beat a homemade summertime beverage that is sure to please your family and friends at a picnic or barbeque party.
How to prepare Ginger Mint Lemonade
1. Prepare sugar syrup first by simmering a cup of water to which 2/3 cup sugar or brown sugar is added. Allow sugar to dissolve completely and cool. Keep aside.
2. In another vessel, bring 2 cups of water to a boil. Turn off heat and add half a tbsp of chopped ginger and 1/2 cup of fresh mint leaves. Place lid and allow to steep. After 10-15 mts, strain the liquid and cool. Discard mint and ginger.
3. Extract juice from 9-10 limes or approx 1 cup of lime juice. Strain and discard the seeds. Keep aside.
4. Take a pitcher and add 8-9 cups of cold water, add the extracted lime juice, cooled sugar syrup and ginger-mint infusion and combine. Add 1/4 cup of fresh mint leaves and salt to taste and combine. Adjust the sweetness by adding more sugar syrup and if it needs to be more tart, add more lime juice.
5. Pour into glasses and serve with ice.
For those who want to avoid sugar, replace sugar syrup with a cup of honey or any sweetener of your choice. A pinch of roasted cumin powder or chaat masala powder can be added to each glass of lemonade for added flavor.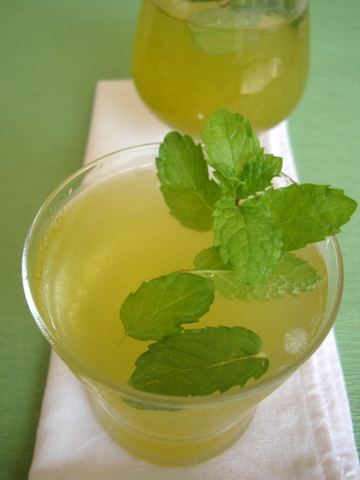 Ginger Mint Lemon Cooler