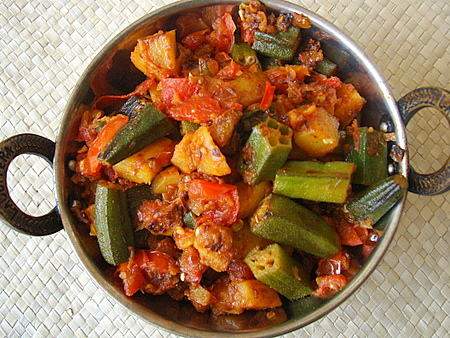 Aloo Bhindi Subji
I like to explore North Indian subjis especially when I prepare rotis. Today it was Aloo Bhindi. This is one of those simple recipes you can make over and over again and that is sure to bring a smile to anyone's face. I wasn't going to add tomatoes but was convinced by my North Indian friend to give them a supporting role along side bhindi and aloo. I am glad I took her advise.
Delightful recipe that has the spices melding wonderfully with the sauteed vegetables to bring out fabulous flavors. And do not make this recipe without ginger and asafoetida, as they really pull the dish together. We enjoyed our soul-filling nutritious meal today.
Aloo Bhindi Subji Recipe
Prep & Cooking: 40 mts
Serves 3-4 persons
Cuisine: North Indian
.
Ingredients:
2 potatoes, peeled and cubed
1/4 kg bhindi/okra/bendakaya, trim ends, cut into 1″ pieces
2 tomatoes, chopped fine
1/2 tsp cumin seeds
1 tsp grated ginger
big pinch of asafoetida/hing/inguvva
1 tsp red chilli pwd
1/4 tsp turmeric pwd
1/2 tbsp coriander pwd
large pinch cumin pwd
pinch of amchur pwd (dry mango pwd)
salt to taste
coriander leaves for garnish
1 1/2 tbsps oil
1 Heat oil in a cooking vessel, add the cumin seeds and let them splutter. Add the grated ginger, asafoetida, coriander pwd, turmeric pwd, cumin pwd, red chilli pwd and a tbsp of water and saute for 15-20 seconds. Add the cubed potatoes and salt. Cover with lid and cook on medium flame for 4-5 mts, tossing in between.
2 Add the okra pieces and combine. Cook without lid for approx 22-25 mts or till the okra and potatoes are almost cooked. Combine in between every 5-6 mts by tossing. (This is a dry saute dish)
3 Add chopped tomatoes and amchur pwd and combine. Cook with out lid for another 7-8 mts and turn off heat. Garnish with coriander leaves and place lid and let it rest for a few mts before serving. Serve hot with phulkas, parathas or puris.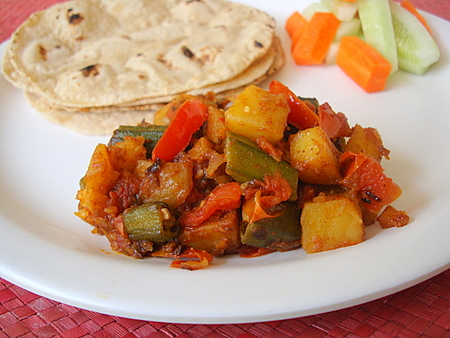 Aloo Bhindi, rotis and salad ~ our meal today