Today, Sailu's Kitchen turns four. Feels incredible! A mere 'thank you' isn't enough to express my gratitude for your affection, support and encouragement, dear readers. I appreciate each and every comment, feedback and emails sent by you. Thank you very much!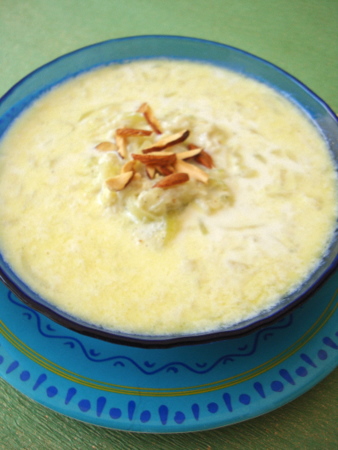 Let's celebrate with a low-fat dessert. Sorakaya Payasam is prepared with grated bottle gourd that is roasted in ghee, simmered in milk, sweetened with sugar, flavored with cardamom and saffron and garnished with toasted cashew nuts and almonds.
Sorakaya Payasam Recipe
Cooking Time: 45 mts
Cuisine: Andhra
Serves 5-6 persons
.
Ingredients:
2 1/4 cups low fat milk
1 cup grated bottle gourd/sorakaya/dhoodi, squeeze out water
4 tbsps sugar (adjust)
1/2 tsp cardamom pwd
pinch of saffron, mix with 1 tsp milk
5-6 cashew nuts/almonds, toasted
1/2 tbsp ghee
1 Heat a vessel, add ghee and toast the cashew nuts and almonds till golden brown. Remove from vessel, keep aside.
2 In the same vessel, add the grated bottle gourd and saute for 5-6 mts. Add the boiled milk and simmer for 15-16 mts, stirring once in a while. Add sugar and simmer for another 10-12 mts, stirring once in a while.
3 Add the cardamom pwd, saffron and toasted cashews and almonds. Serve warm or refrigerate until chilled. It tastes good both warm and chilled.