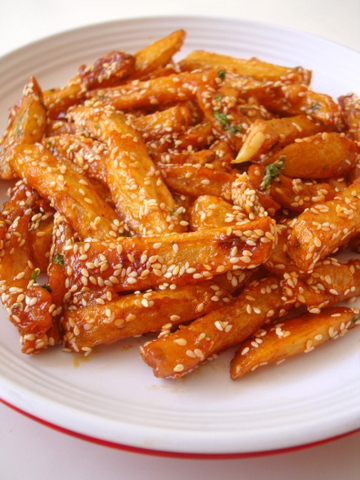 Sesame Honey Chilli Potatoes
Popular Indo-Chinese recipe, Honey Chili Potatoes, owes it flavor to honey and fiery red chilies. I like the deep fried restaurant version but I prefer the healthy home made method where the potatoes are baked before being tossed in a sweet and hot sauce and sprinkled with toasted sesame seeds. Very flavorful and looks appealing in the serving plate.
Sesame Honey Chilli Potatoes Recipe
Prep & Cooking: 30 mts
Serves: 4-5 persons
Cuisine: Indo-Chinese
.
Ingredients:
3 potatoes, peeled and cut into fingers like for french fries
2 crushed garlic cloves
1 tsp red chilli pwd
2 tsps tomato sauce
salt to taste
1 1/2 tbsps oil
For sauce:
1 tbsp tomato sauce
1 tsp red chilli sauce
2 tsps vinegar
2 crushed garlic cloves
1 1/2 tbsps honey
1 tsp chopped coriander leaves (optional) or spring onion greens
1/2 tbsp oil
1 Combine potato fingers, oil, red chilli pwd, tomato sauce, crushed garlic and salt and place in a ziplock bag and shake well. Grease a baking tray and spread the potato fingers on the tray and bake at 200 degrees C for 35-40 mts. You need to turn the potato fingers once during the baking process. OR you can deep fry the potato fingers to a golden brown shade. If deep frying add a tbsp of cornflour instead of oil to the potatoes and then deep fry. Remove onto absorbent paper and keep aside.
2 Heat a heavy bottomed vessel, add oil, add the crushed garlic and saute on high flame for few secs. Add the red chilli paste, tomato sauce and vinegar and combine. Add the baked potatoes and toss for a mt on medium-high flame. Add the honey and toss the contents till well combined. Turn off heat. Adjust salt if required.
3 Sprinkle toasted sesame seeds and garnish with spring onion greens or coriander leaves and combine. Serve warm as a starter/appetizer.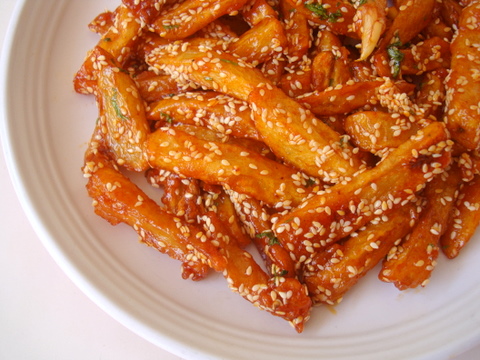 Honey Chili Potatoes