Festivals reflect the cultural diversity of India, a land of many religions. Festivity denotes – new clothes, rangoli/muggulu, mango leaves thoranam, smell of camphor and incense sticks, family get togethers, fun, laughter and most importantly home cooks diligently prepare traditional sweets, savories and elaborate festive meals.
Today being Dasara, it has to be a sweet related post. 🙂 Its all about mithais (sweets) which are uncompromisingly rich and it doesn't matter how many calories they contain. Rava Laddu (Sweet Semolina Balls) and Semiya Payasam (Vermicelli Kheer) are South Indian traditional festival sweets that are absolutely mouth-watering and addictive.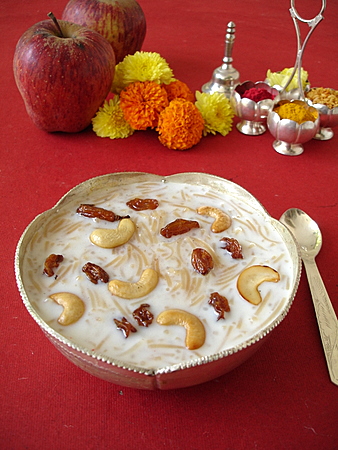 Semiya Payasam ~ Vermicelli Kheer
Semiya Payasam is prepared with Indian vermicelli that is roasted in ghee to a golden color, slowly simmered in milk and sugar, flavored with aromatic cardamom and garnished with toasted cashewnuts and raisins. Simple to prepare, quick, comforting and delicious with a heavenly aroma!
Kitchen Notes – You will find that once you turn off the flame and the payasam sits, the semiya will absorb the milk and the payasam will thicken. The payasam thickens even when refrigerated. So at the time of serving, add some warm milk (a few tbsps) and combine well and serve. For a rich taste, use whole milk.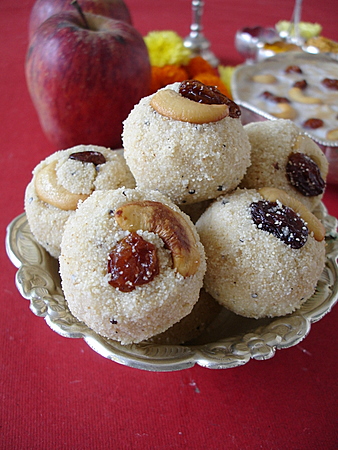 Rava Ladoos ~ Semolina Balls
Rava Laddu is a melt-in-the-mouth delicacy prepared with sooji aka semolina, sugar, cardamom and garnished with cashewnuts and raisins. There are a number of versions of rava laddu recipe and each version has its own unique flavor. One variation is the use of grated coconut which I avoided. Very simple to prepare – roast semolina in ghee to a light brown color, combine sugar, cardamom powder, sprinkle milk and form laddus/balls out of the crumbly sooji-milk mixture and top with toasted cashewnuts and raisins.
Kitchen Notes – For variation, add a few tbsps of grated coconut (roasted in ghee). If you add coconut the shelf life is shorter. For a longer shelf life, its better to make thin sugar syrup and combine the roasted sooji in it and then prepare balls.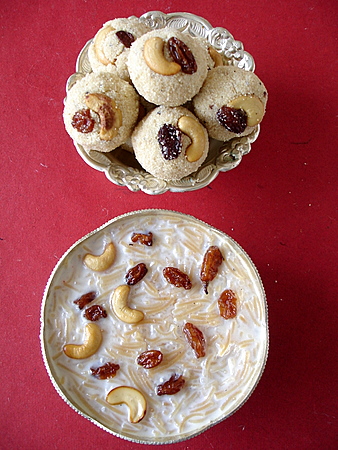 Ravva Ladoo ~ Semiya Payasam
Both Rava Laddu and Semiya Payasam are my entries for Sugar High Friday food event hosted by Anita of Dessert First. She chose 'Spices' as the theme and with aromatic cardamom being the flavor enhancer in both the recipes, they make apt entries. Srivalli is hosting JFI – Festival Treats this month and both these treats are my entries for this event too.
Today is the culmination of Devi Navaratri celebrations. Wishing all my readers, visitors and friends a happy Dasara!