Prawns are our family's favorite sea-food. A few readers emailed me requesting for more sea food recipes since they find very few recipes featuring fish, prawns and crabs. The reason there are hardly any sea food recipes is because, I usually prepare sea-food for dinner (I buy the fresh catch that arrives after 2 pm) and I do not take food pictures after 5 pm. I usually shoot pictures of food in natural light.
Satish bought prawns on his way back home after his morning jog. He chanced upon a fisherman who was just back from the sea with a fresh catch of prawns. So prawns stir fry it was for lunch. My domestic help peeled and de-veined the prawns which made my life easy in the kitchen. I made two varieties of prawn stir fry, one being Indo-Chinese and the other our home style Andhra preparation which I'm featuring today.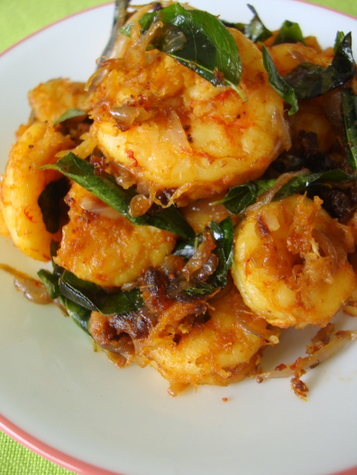 Straightforward recipe, simple preparation, few spices, incredible taste! Garam masala is an essential component of this recipe as it compliments the prawns perfectly.
Royallu Vepudu – Prawn Stir Fry Recipe
Marination: 30 mts Prep: 20 mts
Serves: 3-4 persons
.
Ingredients:
500 gms de-veined prawns or shrimp
2 onions, finely sliced
2 slit green chillis
2 tsps ginger garlic paste
1 1/2 tsp red chilli pwd (adjust)
1/4 tsp turmeric pwd
1 1/4 tsp coriander pwd
1/4 tsp cumin pwd
garam masala pwd (3 cloves, 1″ cinnamon stick, 1 elaichi)
1 tbsp lemon juice (optional)
salt to taste
15-20 curry leaves
1 1/2 tbsps oil
1 Marinate the prawns in ginger garlic paste, chilli pwd, turmeric pwd, coriander pwd, cumin pwd, lemon juice and salt for 20-30 mts.
2 Add a small cup of water to the marinated prawns and bring to a boil, reduce to medium flame cook for 4-5 mts. Turn off heat and drain the excess water.
3 Heat oil in a pan, add the sliced onions, green chillis and curry leaves and saute till the onions turn a light caramlized brown, approx 8-10 mts. Add the cooked prawns and garam masala pwd and stir fry for 3-4 mts. Adjust salt and turn off heat. Serve hot as a starter or as a stir fry with rice.