Today, I went on an almost 100% raw food diet, basically to de-tox. There was a time when I was a raw food diet on a regular basis but was not consistent in maintaining it. Now, my goal is to eat raw once a week and be consistent. 🙂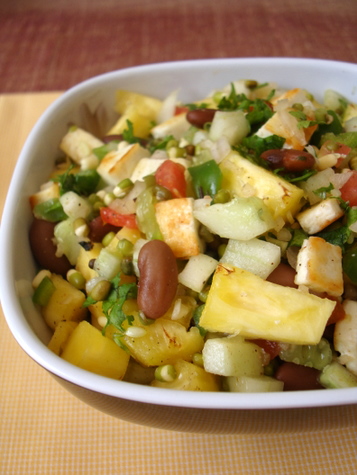 Pineapple, Paneer & Vegetable Salad
Bring together 1/4 cup of boiled kidney beans (rajma), 1/2 cup cubed paneer (sauteed in a tsp of olive oil), 1 small chopped onion, 1 small chopped cucumber, 1 small chopped capsicum, 1 chopped tomato, 1 1/2 cups chopped pineapple, peeled orange segments, 1/4 cup sprouts of your choice, tbsp of chopped coriander leaves, tablespoon of honey, salt and pepper to taste. Toss well. Add any fruit and nuts of your choice. For a vegan experience omit paneer.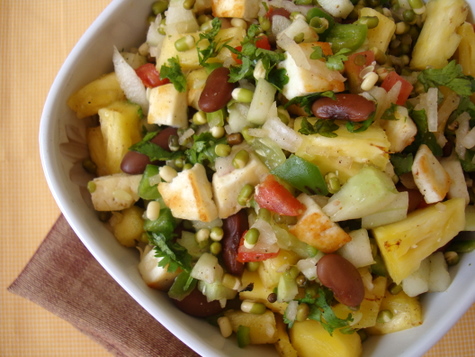 Monday raw food diet ~
Morning: 6.15 am – Glass of luke warm lemon water sweetened with honey
Breakfast: 7.30 am – An apple, sprouts, few soaked and peeled almonds and tender coconut water
Mid Morning: 10 am – Large glass of Mosambi (sweet lime) juice
Lunch: 12.45 pm – Pineapple Paneer Vegetable Salad
Late Afternoon: 3.30 pm – 2 oranges and tender coconut water
Dinner: 6.45 pm – Spinach-Papaya-Flax Seeds Smoothie and few dates
Drank more water than usual.