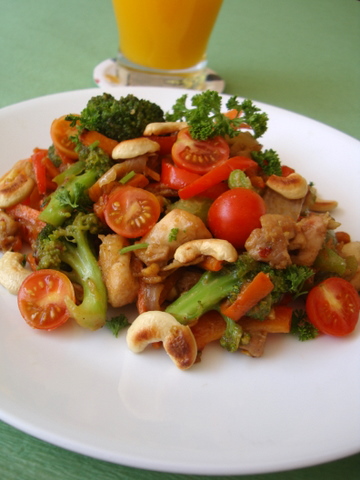 Stir fried Broccoli Chicken with Homemade Mango Juice ~ Our meal today
I tried a Thai inspired sweet and savory sauce for a simple broccoli and chicken stir fry and it did not disappoint. The sauce included peanut butter that added sweetness, red chilli flakes gave a touch of spice while lemon juice provided the tang. The roasted red pepper and carrots went well with the chicken and broccoli and the final garnish of cherry tomatoes and toasted cashew nuts packed that extra punch.
Use seasonal vegetables and greens of your choice, shrimp can also be included while vegetarians can replace chicken with paneer or tofu. Makes for a perfect summer meal – quick (under 30 mts), healthy, light on the stomach and delicious! 🙂
Stir fried Broccoli Chicken Recipe
Prep & Cooking Time: 20-25 mts
Serves 4 persons
Cuisine: Thai inspired
.
Ingredients:
1/2″ ginger or galangal, julienne
1-2 garlic cloves, crushed
1 onion, cut into 8 pieces
1 carrot, julienne
1 red bell pepper, julienne
1 small head broccoli, blanch in hot water for 2 mts, drain competely
1 cup boneless chicken, cooked
1 tbsp oil
coriander leaves or parsley for garnish
4-5 cherry tomatoes for garnish
7-8 roasted cashew nuts for garnish
Stir fry sauce ingredients (combine)
3/4 – 1 tsp red chilli flakes
1/2-1 tsp light soya sauce
1/2 tbsp lemon juice or vinegar (adjust)
1-2 tsps honey or brown sugar
1 1/4 tbsps peanut butter
3-4 tbsps hot water
salt to taste
1 Heat oil in a large wok, once the oil is hot, add the ginger, garlic and onion and cook on high for a mt, constantly stir frying. Add the cooked boneless chicken and toss for 3-4 mts.
2 Add carrots and broccoli and cook for a mt on high flame. Add bell pepper and stir fry for 3 mts, tossing vegetables constantly lest they burn.
3 Adjust salt, spice and sweet flavors by taste testing the sauce. Add the prepared sauce mixture and toss all the vegetables till well combined with sauce. Combine well and cook for a mt on low flame till vegetables turn crisp tender.
4 Turn off heat, remove onto serving plate and garnish with toasted cashew nuts, cherry tomatoes and parsley or fresh coriander leaves.