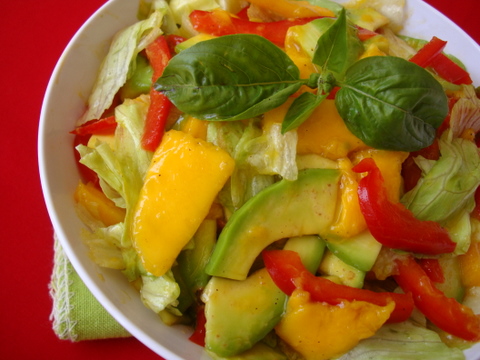 A chef friend sourced and gifted me some hard to find produce (in Vizag) like broccoli, bell peppers, cherry tomatoes, lettuce, basil and parsley. 🙂
Prepared a simple, colorful and flavorful salad using avocado and ripe mango for lunch today. Refreshing with combination of textures – both avocado and mango being creamy, and lettuce providing a bit of crunch, the salad has a mingling of savory and sweet flavors. Perfect hot weather salad that is simply outstanding. One of the best refreshing salads I have had in recent times.
Avocado ~ Home grown ripe mangoes
In a bowl, whisk 1 crushed garlic, a tbsp of lemon juice, a tbsp of olive oil, salt and crushed pepper to taste and a tbsp of honey. Add 1 peeled and sliced ripe mango, 1 peeled and sliced avocado, 1 sliced red bell pepper and washed and torn lettuce. Toss well till combined with dressing. Serve chilled garnished with basil or coriander leaves.