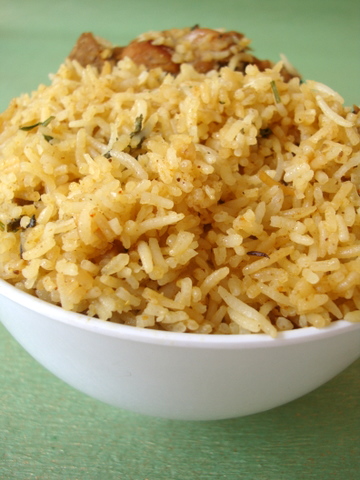 Easy Chicken Pulao
Many frown upon the plain 'pulao' considering it inferior to the pampered 'biryani'. The chicken pulao that we make at home is no less than any saffron laced biryani in spite of its simplicity. A straightforward and quick pulao recipe that features basmati rice, chicken, coconut milk and fragrant spices. As this decadent one pot dish simmers, the khushboo (aroma) that emanates the kitchen, will put the glamorous biryani to shame. 🙂
Quick & Easy Chicken Pulao Recipe
Marination: 10 mts Prep & Cooking: 45-55 mts
Serves 4-5 persons
Cuisine: Andhra
.
Ingredients:
1/2 kg chicken, washed and drained completely
2 cups long grained rice, washed and strained
2 onions, finely sliced
2 green chillis, slit
1/2 tsp ginger garlic paste
1 tomato, finely chopped
1 tbsp chopped coriander leaves
10-12 mint leaves
2 1/2 cups water
1/2 cup thick coconut milk
salt to taste
1 1/2 tbsps ghee + 1 1/2 tbsps oil
Marinade:
1/2 cup thick curd/yogurt
3-4 green chillis, make a small slit in them
1/2 tsp ginger garlic paste
1/2 tsp red chilli pwd (adjust)
1/4 tsp turmeric pwd
1/2 tbsp coriander leaves
6-7 pudina leaves
1/2 tbsp lemon juice
1 tsp salt
Garam Masala:
7 cloves
1″ cinnamon stick
3 elaichi/cardamom
1 star anise
1 marathi mogga
pinch of mace
pinch of nutmeg pwd
2 bay leaves
1 Marinate chicken with the ingredients called for 'marination' for 10 mts. While the chicken is marinating, work on the rest of the preparation.
2 Heat oil+ghee in a vessel, add all the garam masala ingredients – bay leaves, cloves, cinnamon, cardamom, mace, star anise, marathi mogga and nutmeg. Saute for few seconds.
3 Add sliced onions and green chillis and saute for 6 mts till onions turn transparent. Add ginger garlic paste and saute further for 2-3 mts. Add chopped tomato, mint and coriander leaves and saute for 4 mts.
4 Add the chicken along with marinade and combine well. Cook on high for 2 mts, reduce flame, place lid and cook for 15-16 mts or till the chicken is three fourth cooked with little gravy left. It should not be completely dry but appear like a gravy dish.
5 Add water and coconut milk and bring to a boil. Adjust salt, reduce flame and add the strained basmati rice. Add 4-5 mint leaves and 1/2 tbsp coriander leaves and place lid and cook on low flame till the rice and chicken are cooked. This could take approx 15-18 mts. Turn off heat and do not remove lid for 10 mts.
6 Remove lid, add 1/2 tbsp ghee and combine gently and serve hot with raita and curry of your choice.