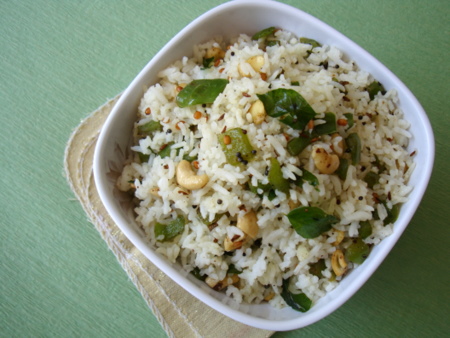 Quick Butter Capsicum Rice
Lately, I have been living off soups and cups of ginger tea as I'm nursing a runny nose and sore throat. Feel a lot better today.
Yesterday we had chicken roast with a quick butter capsicum rice for our mid day meal. The butter flavored rice had lot of crunch due to capsicum and cashew nuts and it hardly needed any other ingredient to enhance its taste. A quick one pot meal that is a total keeper!
Quick Butter Capsicum Rice
Prep & Cooking: 20 mts
Serves 3-4 persons
.
Ingredients:
3 cups of cooked long grained rice (each grain should be separate, add a tsp of melted ghee to the rice and mix)
1 tbsp butter
1/2 tbsp ghee
1 tsp green chili paste
15 fresh curry leaves
I large capsicum/ green bell pepper, finely chopped
salt to taste
pepper pwd to taste
For seasoning/tadka/poppu:
1/2 mustard seeds
1 tsp cumin seeds
1 1/2 tbsps roasted broken cashew nuts
1 tsp black gram dal/minappappu
1" cinnamon stick/dalchini chakka
2 tbsps grated coconut (optional)
1 Heat ghee and butter in a cooking vessel on medium heat.Add mustard seeds and cumin seeds and allow them to splutter. Add the black gram and cinnamon stick and saute till the dal turns light brown. Add curry leaves and green chili paste and saute for a few secs.
2 Add the chopped capsicums and fry them for approx 7 minutes. Don't over cook them, let the capsicums retain their crunchy texture. Add salt and black pepper pwd to taste and mix well.
3 Reduce heat and add the cooked rice and broken roasted cashew nuts and mix. Cook for 2 mts.
4 Add the grated coconut if using and mix with the rice. Turn off heat.
5 Serve hot with any sabji/curry of your choice or with just pickle.
Note:
This rice can be prepared using vegetables like carrots, potatoes, gherkins, egg plants, bitter gourd etc.