In our home, Potato masala that is usually served with puri is a simple recipe and almost like a dry saute. With the same basic potato masala recipe, variations are prepared, away from monotony. Adding besan (chick pea flour) towards the end of the cooking process gives an interesting twist and has a more curry like consistency. Its finger licking good. 🙂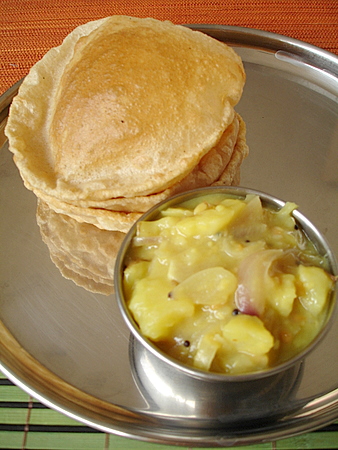 Puri – Potato Curry
Puri-Potato Curry Recipe
Prep & Cooking: 30 mts
Serves 4-5
Cuisine: Andhra
.
Ingredients:
3 potatoes, peeled and crumble with hand
2 onions, finely sliced
2-3 green chillis. slit
1″ inch ginger, finely minced
large pinch turmeric pwd
1 tbsp besan/senaga pindi/chick pea flour
salt to taste
coriander leaves for garnish (optional)
1 1/2 tbsps oil
For seasoning/poppu/tadka:
1/2 tsp mustard seeds
1 tsp minappa pappu/split black gram/urad dal
1 tbsp channa dal/senaga pappu/bengal gram
2-3 green chillis, slit
10-12 curry leaves
1 Heat oil in a cooking vessel, add mustard seeds and let it splutter. Add urad dal and channa dal and fry till they turn red. Add fresh curry leaves, green chillis and ginger and saute for a few secs.
2 Add the sliced onions and saute on medium heat for 4-5 mts or till the onions turn transparent. Add the turmeric pwd and combine. Add the crumbled boiled potatoes and adjust salt. Place lid and cook for 3 mts.
3 Add a cup of water to the potatoes and increase flame, cook for 2 mts. Reduce flame and place lid and cook for 4-5 mts.
3 Remove lid, sprinkle the besan all over the cooking potatoes and give a good stir. Simmer till the rawness of besan/chick pea flour disappears, approx 3-4 mts and the curry slightly thickens.
4 Garnish with coriander leaves and serve with puris.