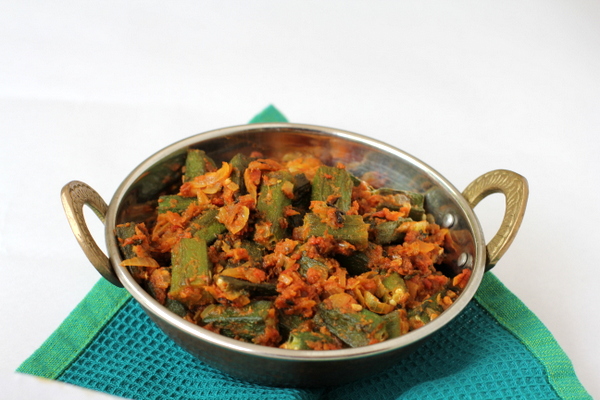 Punjabi Bhindi Masala
When I order vegetarian fare in an Indian restaurant that is known for its North Indian fare, I usually look for an okra main course dish in the menu card. I heart bhindi and look for a new way to cook it away from the monotonous dry saute, sabji, stir fry, stew and stuffed bhindi style recipes.
I always, always have okra in the refrigerator and is a must buy on every visit to the farmer's market. I chose tender and slender looking bhindi with no blemishes. I decided on making Punjabi Bhindi Masala to go with phulkas. Seriously, this recipe is a celebration of okra. A flavor packed bhindi dish where the spices bring out the sweetness of the okra while the dry mango powder lends a slight tangy touch.
Do not allow the bhindi to get mushy, it should hold shape yet soft on bite. Delectable flavor with soft texture, and a wonderful change from the usual okra.