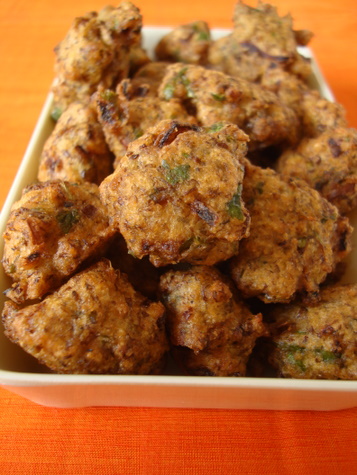 Pesara Pudina Punukulu
Another great monsoon treat that is savory and perfectly crisp with the minty flavor shining through every bite. Ginger and mint are the key players so if you venture to prepare them on a rain filled day, do use both. Your chai experience will be memorable. My guarantee. 🙂
Pesara Pudina Punukulu Recipe
Prep & Cooking: 20-30 mts, soaking: 5-6 hours
Makes approx 35 punukulu
Cuisine: Andhra
.
Ingredients:
1 cup pesalu/green moong dal (soaked in water for 5-6 hrs)
1 onion, finely chopped
3-4 green chillis (adjust)
1″ ginger
1 tsp cumin seeds
12-15 mint leaves finely chopped
salt to taste
oil for deep frying
1 Grind the soaked and drained moong dal, green chillis, ginger and salt to a slightly coarse paste. There is no need to add water while grinding. Remove onto a dish and add the chopped onions, mint leaves, cumin seeds and mix well.
2 Heat oil in a deep frying vessel. Once its piping hot, reduce flame to medium and drop a little mixture of the batter and fry the fritters to a golden brown color. Deep fry a batch of 8-10 punukulu depending on the size of the vessel.
3 Serve hot over a cup of masala chai.
Moong Dal Mint Fritters