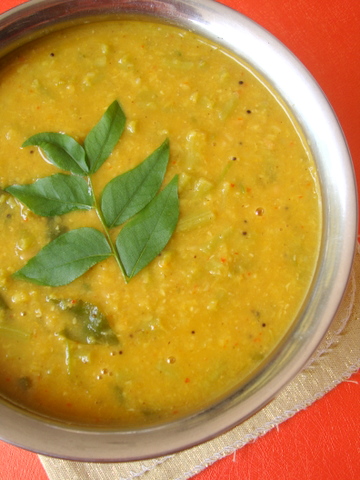 Moong dal with Amaranth stalks
An easy, hearty and enduring dal, prepared with yellow moong dal and mature stalks of amaranth leaves that is packed with protein and nutrients. Ground paste of fresh coconut, cumin and coriander seeds, enhances the flavor and aroma of the kootu. Let the kootu sit for a while before serving allowing the flavors gel. Makes for a decent side with rice or rotis.
Add few tablespoons of thick coconut milk towards the end of the cooking process for a thick soup.
Pesarapappu Thotakura Kadala Kootu Recipe
Prep & Cooking: 45 mts
Serves 4-5 persons
Cuisine: Andhra
.
Ingredients:
1 small cup pesarapappu/moong dal, washed
2 cups amaranth leaves stalks/thotakura kadalu, cut into 1 1/2″ pieces
1/4 tsp turmeric pwd
salt to taste
Make a paste:
2 tbsps grated coconut
2 red chillis
1 tbsp coriander seeds
1 tsp cumin seeds
For seasoning/poppu/tadka:
1/2 tsp mustard seeds
1/2 tsp split black gram dal (urad dal/minapappu)
big pinch asafoetida/inguva/hing
few fresh curry leaves
2 tsps oil or ghee
1 Pressure cook moong dal with half cup of water and turmeric pwd upto one whistle or half cooked. Add the chopped amaranth stalks to the dal along with 1 1/2 cups of water and cook for 18-20 mts on low to medium flame.
2 Add the coconut paste and salt to the cooked dal-amaranth stalks mix and combine well. Cook on medium flame for another 12-14 mts. The texture should be slightly thick and not watery.
3 In a pan, add ghee or oil, add mustard seeds and let them pop, add urad dal and let it turn red. Add curry leaves and asafoetida and stir fry for a few seconds.
4 Add the tempering to the simmering dal and combine. Turn off heat, place lid and leave covered for a few mts.
5 Serve with hot rice.