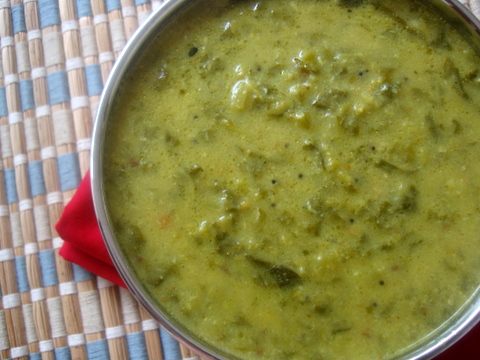 Perugu Thotakura
If you are fond of greens, especially Amaranth leaves aka Chauli, then I'd like to draw your attention to today's quick and simple dish that not only adds color, flavor and aroma to your meal but loads of nutrition too. Sauteed greens are combined in a spiced yogurt sauce and garnished with coriander leaves.
You can prepare this recipe with spinach leaves too. Makes for a good side with rice and rotis.
Perugu Thotakura Recipe
Prep & Cooking: 25 mts
Serves 4-5 persons
Cuisine: Andhra
.
Ingredients:
3 cups chopped thotakura leaves and stalks, blanched for 5 mts, strained
Combine and keep aside:
1 cup thick yogurt combined with a cup of water
1 tsp green chilli-ginger paste
2 tbsp fresh coconut paste
1/4 tsp turmeric pwd
1 tbsp rice flour or besan/chickpea flour
salt to taste
For tempering/poppu/tadka:
1 tbsp oil
1/2 tsp mustard seeds
1/2 tsp cumin seeds
1 tsp split black gram dal
1-2 dried red chillis (tear into pieces)
1/4 tsp large pinch asafoetida
10-12 curry leaves
1 Heat oil in a heavy bottomed vessel, add mustard seeds, let them pop, add the cumin seeds and split gram dal and let them slightly red. Add hing, red chillis and curry leaves, and saute for a few secs.
2 Add the thotakura and stir fry for 3 mts.
3 Add the yogurt mix and combine well. Keep stirring over medium flame till it comes to a boil. Reduce flame and cook for another 3 mts till the gravy thickens.
4 Garnish with coriander leaves and serve with white rice.
Blanching of amaranth leaves – Boil 2 cups water in a deep vessel. Add salt, pinch of turmeric pwd and chopped amaranth leaves and cook over medium flame for 5 mts. Strain and use left over water to prepare chapati dough and use the blanched leaves and stalks as called for in the recipe.